Vieques, Puerto Rico > Things to Do in Vieques, Puerto Rico  > Snorkeling in Vieques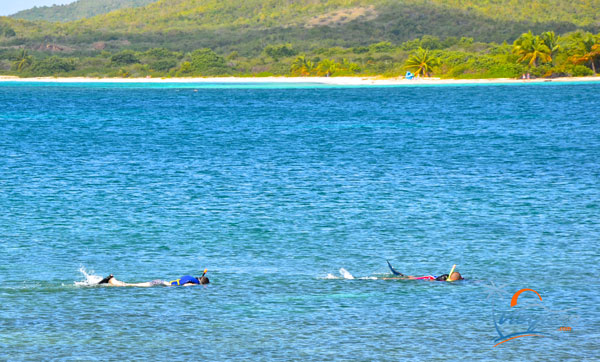 Snorkeling is one of the favorite pastimes here in the Spanish Virgin Islands of Vieques and Culebra.  Spend days beach hopping and exploring the beauty of a world that has been preserved partly thanks to the Navy's presence in the past and the low development.  In Vieques you can snorkel over reefs with beautiful fans, brain coral, and gorgonian coral forests.  Swim along schools of angel fish, parrot fish, butterfly fish, eagle rays, the beautiful and endangered hawksbill turtles, and much more.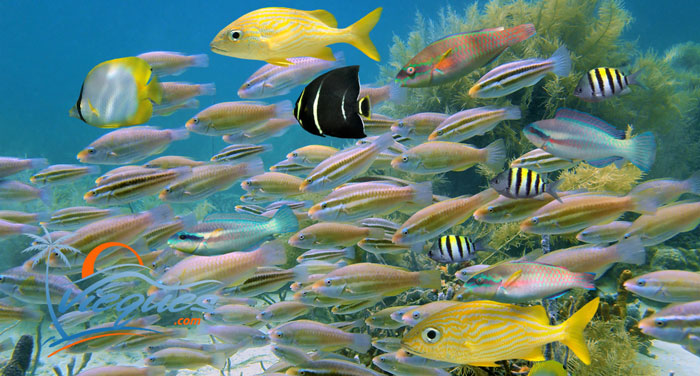 In Vieques, you can easily access many snorkeling spots on your own.  Following we have listed favorite snorkeling spots around the island.   If you prefer, you can go to one of the shops in Vieques and rent the gear, or you may book a tour with friendly and knowledgeable snorkeling tour guides so they can take care of the details and you can focus on enjoying the experience.
Please help us protect our reefs by never stepping on, taking away, touching or leaving trash at the beach.  Honestly, it's hard to share this information, we love and want to preserve our natural treasures.  We invite you to enjoy them, but we beg that you help us preserve it.  Before you step into the water, please put on your mask, and look underwater to make sure you don't step into any of the coral or sea life. 
Here's a video done by a traveler, a little bit of everything during their visit and some fun snorkeling footage. This could be you…so what are you waiting for?
Favorite Snorkeling Spots in Isla de Vieques, Puerto Rico
Bahia de la Chiva (Blue Beach) – We'll list it at the top of the list, here you can snorkel right off the beach along the length of the beach.  The beach is shallow and it's a great place for families to snorkel together.  Even at some spots around the edge of the shore, small children can sit on the water and watch schools of fish swimming around.   The best snorkeling spot is at the end of the road where you can get easy access to La Chiva, a small island with surrounding waters full of life and a long reef that extends across the beach.  The waters are shallow, and you can easily float and swim with the current depending on the wind conditions.
We have seen people make the mistake of walking on the shallow waters in order to get into the water without paying attention to where they're stepping.  What appears to just be seagrass, may actually be young coral growing underneath and around, which is easy destroyed when stepped on.  You also risk stepping on sea urchins, please swim out, it's an easy 7-10 minute swim to the reef and you'll be protecting this delicate natural treasure.
Cayo Blanco – Schedule a sailing snorkeling charter with Capt. Judi from SeaVieques.
Cayo de Afuera: See dramatic antler coral. Enjoy the sights of nurse sharks and occasionally you may encounter a manatee cruising by.  Rent a kayak or schedule a snorkeling tour.
Escondida Beach –  Enjoy the best snorkeling on the left side of the beach along the rocks bordering with Blue Beach next door.  This beach is very small and intimate, but the variety of fish is very surprising.  We've spotted manta rays as we swim and enjoy the beach.
Esperanza Beach: One of the most popular spots for snorkeling and most easily acccessible.  Great snorkelling under the concrete pier and the area right in front of Trade Winds Guesthouse.  You may spot manta rays, sea turtles and some cool varieties of colorful fish.
Gorgonian Forests: Schedule a tour and see the beautiful sea fan forests.
Gringo Beach:  This beach is located on the north side of the island next to the W Retreat & Spa.  When the winds are calm you can enjoy snorkeling along the rocks on the side of the resort.
Media Luna: A shallow beach/ protected cove excellent to take children snorkeling.
Mosquito Pier: Mosquito Pier is a very popular spot for scuba divers and great for snorkeling, it is located on the north shore of the island.  The clarity and variety of sea life is excellent.  The pier has not been in use, and sea life has claimed it as their home and playground.   You'll want to snorkel along the left side of the pier where the waters are protected from the surf.  You'll swim along sea turtles (lots of them), sting rays and a variety of colorful sea life.  We recommend you book a tour guide for safety and to make the best of your time there.
Playa Pata Prieta – A great beach for families with children. A small protected cove, not too deep, clear calm water.  Best snorkeling spots are at at each end along the rocks.  See if you can spot an Eagle Spotted ray who loves to hang out at this beach.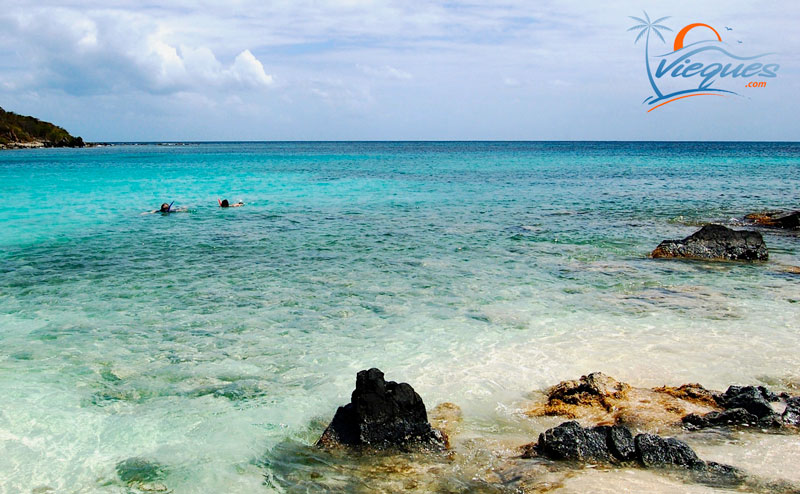 Punta Arenas / Green Beach:  Green Beach is excellent, you can begin to snorkel right off the beach.  The variety of fish at Green Beach is amazing and magical.  Please be careful not to step on the reefs, many of them start right off the shoreline and they're very sensitive, so getting on the water and off will take some extra care.
Snorkel Gear in Vieques
Bring your own snorkeling gear
, so you can get right on the water as soon as you arrive to begin your adventure.  Snorkeling vests and rash guards are recommended.
There are several shops in Vieques with rental gear available. Stop in before you go on your snorkeling adventures, the attendants are very friendly and informative.
Black Beard Sports (787) 741-1892
Playa Voltios Surf & Skateboard Shop 787-741-7873
Snorkeling Tours in Vieques Island, Puerto Rico
Save time and book a snorkeling tour online.
At Sea Vieques –  787-435-0256
Black Beard Sports – 787-741-1892
Caribbean Lady – 787-930-5610
Fin Time Adventures  – 787-981-4109
Fun Brothers – 787-435-9372 / 787-741-0151
Isla Nena Scuba – 787-718-7605 / 7607
Isla Outfitters – 970-270-0628
Jak Water Sports – 787-644-7112
Little Boat Sailing – 787-366-5202
Melaya's Tours – 787-222-7055
Sea Vieques – 787-435-0256
Vieques Adventure Company – 787-741-4101
Vieques Paddleboarding – 787-366-5202
More snorkeling beaches in Puerto Rico
Vieques, Puerto Rico > Things to Do in Vieques, Puerto Rico  > Snorkeling in Vieques
Keep Exploring Vieques, Puerto Rico