Isla Nena… Yours to Explore

For many years the pretty little island was a secret escape in the Caribbean for visitors and Puerto Ricans from the metropolitan area in search of uncrowded beaches and precious seclusion.  Since the departure of the U.S. Navy in 2003, the number of tourists has increased considerably.
Isla de Vieques is a tropical playground that's finally open, travelers from all over the world are visiting this island for it's unique charm of  the Caribbean of the past. The number of tourists have increased over the past year, and a window of opportunity has opened for travel agents, hotel chains, real-estate investors, and Viequenses.
Every time you get to the island you'll find new changes, more restaurants, improved hotels, improvements on roads to beaches and a good sense of prosperity and change. It's great to see more jobs being created, beautiful homes being built, but at the same time there is a sense of fear; the fear that what makes Vieques so special and unique will be gone in the next decade, a sense of calm, having a beach to yourself and the lack of tourism exploitation that you see all over the Caribbean.
Articles by major magazines and newspapers have given the island much exposure, the arrival of the W Retreat & Spa has turned Vieques into the absolute best mix of both worlds, luxury and raw beauty which gives the island a unique position in the Caribbean. Vieques is quickly becoming the hottest spot in the Caribbean.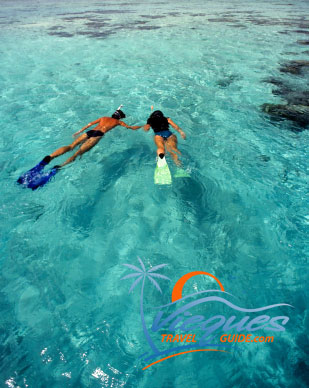 Brides and grooms travel from all over the world to say "I Do" in Vieques, families anxiously plan a great vacation seeking for the peace, fun and ambiance that leads to some real quality family time away from the hustle and bustle of their everyday lives.
Ironically the Navy presence kept the island like the Caribbean from the past, uncrowded, lush and serene. There is not even a single traffic light in Vieques. When you come to the island, the residents of Vieques, your hosts will welcome you with a smile and make sure you have a great relaxing fun vacation.
We invite you to come and discover the island of Vieques. Relax and let us show you our island and the many reasons why we love it. We hope you enjoy your visit Vieques.com
Keep Exploring Vieques, Puerto Rico