Vieques Puerto Rico > Attractions in Vieques > Beaches of Vieques > Playa Escondida
Possibly the world's smallest beach

Have you ever found yourself driving along a highway with a building covered in wallpaper for an advertisement with a background of a tropical scene?  During your visit to Playa Escondida, you'll feel like part of a painting.  Escondida Beach is as big as a mural on the side of a building…only real, moving, breathing.  It is no wonder, so many travelers that vacation in Vieques, keep coming back year after year, this island is what tropical dreams are made of… Escondida (meaning hidden) feels as if nature created it just big enough for a few people, you'll feel like it is your own private beach.  Escondida may just be the smallest beach in the Caribbean.
It's no wonder so many couples escape to Vieques in order to reconnect and fall in love over again, the scenery at Escondida evokes so many good feelings, making it easy for couples with busy lifestyles to reconnect with each other.  A family with small children may also enjoy this beach, but keep in mind that this beach is one of the farthest on the Nature Reserve and there are no facilities.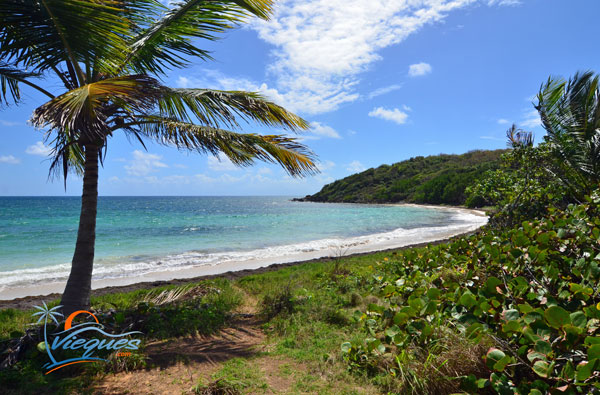 The beach is narrow, not much sand but there's plenty of space to place your lounge chairs on the sand or grass and enjoy the views of offshore cays, listen to the gentle waves and of course enjoy a good swim.  There is very little parking, most likely you'll have this beach all to yourself since most people head to Playa La Chiva and the more accessible beaches. 
This cozy beach cove is completely embraced by hills covered in green serving as the perfect background.
During the summer months, the water is the calmest, a wonderful spot for snorkeling at a beach you'll most likely have all to yourself.  
Facilities at Playa Escondida in Vieques
Escondida is one of the last beaches inside the Vieques National Wildlife Refuge on the south side of Vieques.  There are restrooms available at the entrance of the gate at the Refuge office.  Cell phone reception is not the best in this area. For your safety don't go swimming alone, you swim at your own risk. 
Map - Playa Escondida
Vieques, Puerto Rico
Keep Exploring the Beaches on the island of Vieques, Puerto Rico