Vieques Puerto Rico > Attractions in Vieques > Beaches of Vieques > Playa Escondida

While at Escondida Beach you'll feel more like a part of painting because is about as big as a mural on the side of a long building.  This beach feels as if nature created it  just big enough for honeymooners / couples in love, it's like being in your own private beach.  It's no wonder so many couples escape to Vieques in order to reconnect and fall in love over again, the scenery evokes so many good feelings, that it's easy to reconnect with your loved one.  A family with small children may also enjoy this beach, but keep in mind that this beach is one of the farthest on the Nature Reserve and there are no facilities.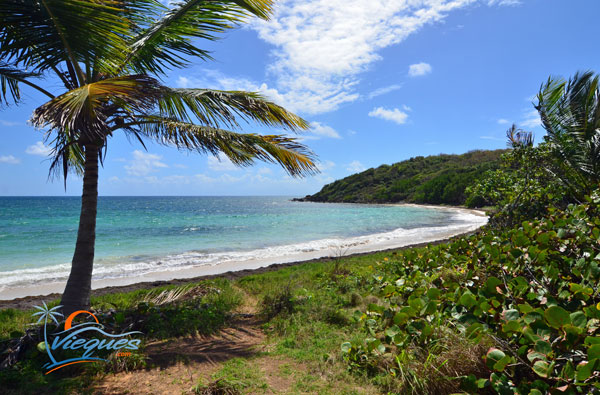 This beach is very unique by it's size and perhaps Escondida may just be the smallest beach in the Caribbean. The beach is very narrow, not much sand but there's plenty of space to place your lounge chairs on the sand or the grass and enjoy the views of offshore cays, listen to the gentle waves and of course enjoy a good swim.
Escondida means hidden.  There is very little parking, most likely you'll have this beach all to yourself since most people head to Playa La Chiva and the most accessible previous beaches.
If one could build a beachfront home, this would be the perfect place, a cozy little beach just for you (but then it would be like any other island in the Caribbean).  Here in Vieques you can enjoy beaches on it's natural state with no buildings in sight.
The scenery – La Escondida Beach… a small beach cove completely embraced by hills covered with lush green native flora serving as the perfect background to the contrasting white sands and turquoise waters.
The waters – In the summer months the waters are very calm and you can do a little snorkeling along the rocks at the either end of the beach.
Facilities at Playa Escondida in Vieques
Escondida is one of the last beaches inside the Vieques National Wildlife Refuge on the south of Vieques.  There are restrooms available at the entrance of the gate at the Refuge office.  Cell phone reception is not the best in this area.
Map of Escondida Beach, Vieques, Puerto Rico
Explore more beaches in Vieques, Puerto Rico.
Vieques Puerto Rico > Attractions in Vieques > Beaches of Vieques > Playa Escondida
Keep Exploring Vieques, Puerto Rico