Tours: Beach, Bio Bay, Mangroves, Snorkeling, by Kayak
About Me – Abe, your Tour Guide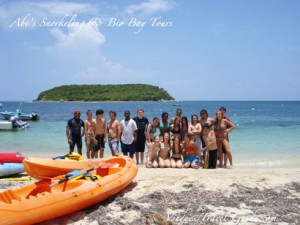 Bienvenido! I am Viequense (native of Vieques). My grandparents from both sides of my family were some of the many Viequenses that left the island when the United States armed forces took over in the forties. My parents grew up on the island of St. Croix, part of the U.S. Virgin Islands, even though they were born in Vieques. As for me, I was born in New York and grew up in St. Croix.I visited Vieques for the first time at age 14 and immediately fell in love with it! I wanted to move to Vieques right then and so I visited the island as much as I could. I fell in love with the bio bay, not knowing that years later I would make a living at it. And then, I made my permanent move to Vieques on August 15, 1998… In 2002, Abe's Snorkeling & Bio Bay Tours was established, and it has grown to become the most recommended kayak company in Vieques. We are also fully endorsed by the Puerto Rico Tourism Company and are currently the No. 1 tourist attraction in all of Puerto Rico in TripAdvisor. My job never feels like work. Afterall, ABE IS MY NAME AND KAYAK IS MY GAME!!! I enjoy meeting new and friendly people from all over the world and hope that you'll also allow me to show you the beauty and magic of Vieques.
Our Tours
NOTE: All the tours are done in kayaks.
Snorkeling Tours
CAYO AFUERA TOUR – This is two hrs. snorkeling tour. Five minutes paddling tosnorkeling spot. Guide points things out while snorkeling, paddle five minutesback to shore concluding the tour. – $35p/p including snorkeling gear…
MOSQUITO-PIER-SNORKELING -TOUR – A snorkeling tour geared for beginners two hrs. – $30 p/p…
BEACH-HOPPING-KAYAK-TOUR – A six hrs. snorkeling and beach hopping tour. – $125 p/p.
TRES PALMITAS. A 3-1/2 hrs. combination mangrove, snorkeling, site seeingtour. – $60 p/p…
Bioluminescent Bay Tours
All IN ONE BIO BAY TOUR – This consists of a 1-1/2 hours eco tour of themangroves; guided snorkeling tour for 1-1/2 hrs; two hrs. on a secluded beachto sunset a prepared sandwich, and then 1hr at the Bio Bay concluding the tour.$ 100 p/p…
NIGHT – BIO BAY TOUR. A Two hr. kayak tour in which you only paddle for onlyfive min.to buoy, we tie all kayaks together have the educational chat, swim,for 45min. make a loop to see the fishes make a light show, stop and talk aboutthe mangroves paddle two min. back to shore ending tour $40 p/p…. $20 per child 11 years and under.
Other Tours
MANGROVES – ECO-TOUR. A Two hr kayak tour. We paddle through mangroves tunnels and canals. An educational chat about the mangroves system, bird and fishwatching ending tour. – $45p/p…
BEACH HOPPING KAYAK TOUR – A six hrs. snorkeling and beach hopping tour. – $125 p/p. – TRES PALMITAS. A 3-1/2 hrs. combination mangrove, snorkeling, site seeingtour. – $60 p/p…
Contact Info
Tel: (787) 741-2134 or (787)436-2686
Keep Exploring Vieques, Puerto Rico