Puerto Rico  >  Vieques  >  Attractions in Vieques  > Beaches of Vieques Puerto Rico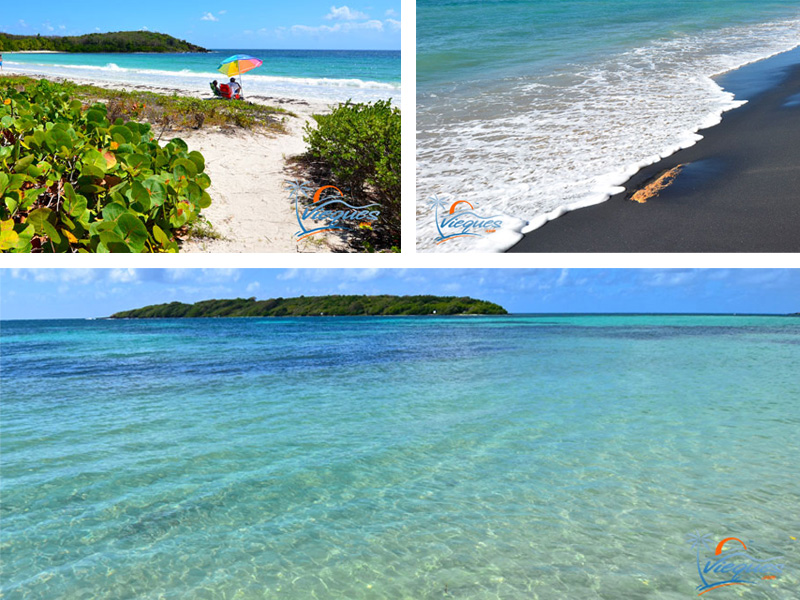 Once you step foot on these beaches, you'll be spoiled for life
Dreamy, Serene, Romantic… Postcard Perfect
The beaches of Vieques are constantly being praised and ranked among the best in the Caribbean and the world for so many reasons.  You probably read this on many other travel guides about other destinations.  Please give us a few minutes to tell you the beaches in Vieques are so special.
Come to Isla de Vieques where you can actually experience what it's like going back in time, where you can experience the beaches of the Caribbean the way it used to be decades ago. Vieques undeniably offers the very best beaches in the Caribbean, they're not only pretty, they're addictive, and visitors that come here come back again and again.  The beaches of Vieques, perfectly capture the enchantment of Puerto Rico that existed over 6 – 7 decades ago.
This small island has been blessed with countless picture perfect beaches with clear blue, azure and turquoise waters unlike any other island in the Caribbean. Each beach has a different type of sand ranging from pure white to baby powder soft black. Isla de Vieques is the island where you hold hands with your loved one, look back and you want to grab your camera to capture the only set of footprints on the beach… yours.
In Vieques you will find some of the most scenic, quiet, and secluded beaches on the Caribbean. Puerto Rico is a very popular destination on the Caribbean for the hundreds of beaches and interesting attractions. The beaches in Vieques are very different from the main island, they stand out for it's unspoiled and tranquil environment that makes you want to lay on the sand and let your mind free to dream.
Your greatest task during your vacation in Vieques will be finding the time during your stay to explore all the beaches. Vieques may be a small island but there are many beaches to explore. If you don't have more than one week vacation in Vieques I guarantee that you'll end up coming back. You will become one more traveler that comes to Vieques again and again
Following are some of the most popular beaches in Vieques. See the map at the bottom of this page for locations. We add more photos on a regular basis so please come back soon. Enjoy our Vieques beaches photo tour.
We'll start with the beaches inside the Vieques National Wildlife Refuge on the southeast side of the island.
Caracas Beach, Vieques, Puerto Rico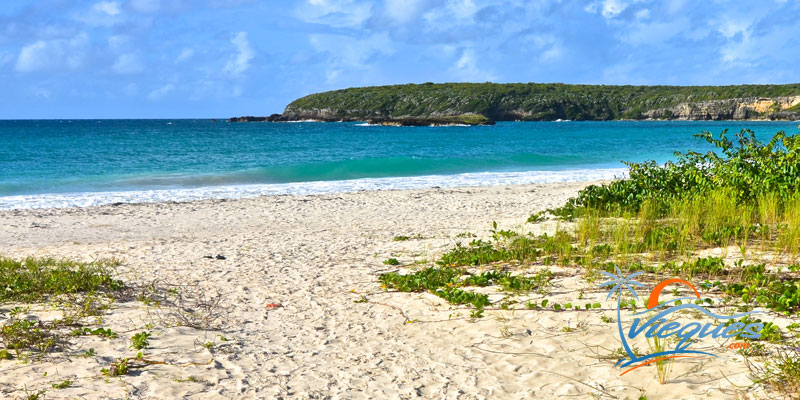 This Beach is one of the favorites among the locals and travelers for it's family friendly facilities. Playa Caracas is located on the southern side of Vieques. Gazebos available makes it very family friendly. More about Playa Caracas – Vieques, Puerto Rico
Pata Prieta Beach – "Secret Beach" – Vieques Island, PR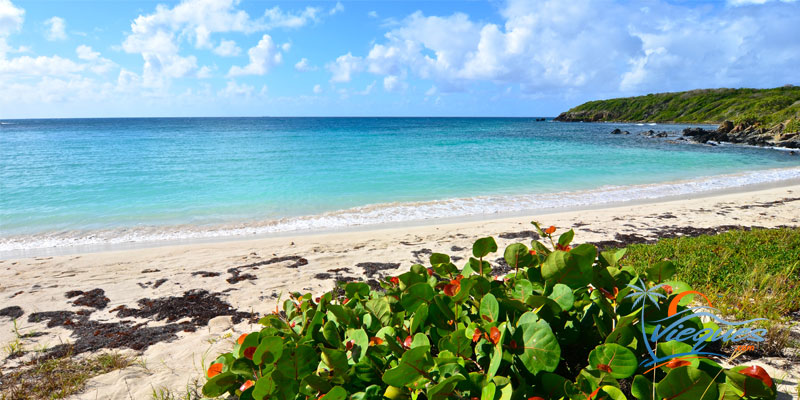 A small beach with clear waters, beautiful rocks, crystal shallow waters great for snorkeling and a fun drive.  See photos and get more information on Playa Prieta Beach, Vieques, PR.
La Chiva Beach "Blue Beach", Vieques, Puerto Rico

Long gorgeous beach, perfect for walks on the beach, snorkeling, photography and swimming, and simply relaxing.  Endless shades of blue waters with cozy shaded spots inside the Vieques National Wildlife Refuge on the Caribbean Sea. More about La Chiva Beach, Vieques, Puerto Rico.
Escondida Beach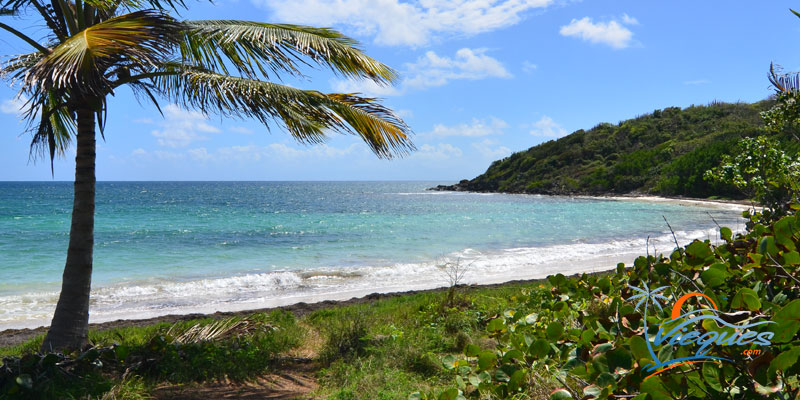 ---
---
So cute and small, seems as if it was created by nature with honeymooners in mind.  Perhaps it's the or one of the smallest beaches in the world and certainly cutest. More info and photos of Escondida Beach in Vieques, Puerto Rico.
Playa La Plata, Vieques, PR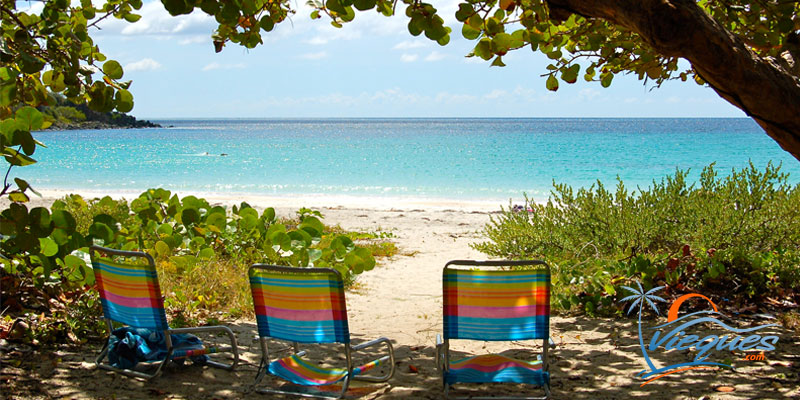 Plata translates to Silver; a perfect name for this beach with glistening bright white sand.  The crystal clear waters sparkle and the sand is soft like baby powder. The waters have a soft turquoise tone and the waters are calm.  The ambiance is perfect for relaxation since not many visitors drive to the farthest east end of the island. More about of Playa La Plata, Vieques
Next we'll show you around the beaches on the southwest side of the island.  These beaches offer dramatic landscapes, a stronger surf with unique sand.
Playa Negrita / Negra "
Black

Sand Beach", Vieques, PR
Even some locals do not know that there is black sand in Vieques. This beach is a bit difficult to find but truly worth the visit. Great beach for a romantic walk and for those with the desire to hunt for treasures like the Pirates of the Caribbean. More info and photos of Black Sand Beach in Vieques Island Puerto Rico.
Playa Grande Beach – Vieques, PR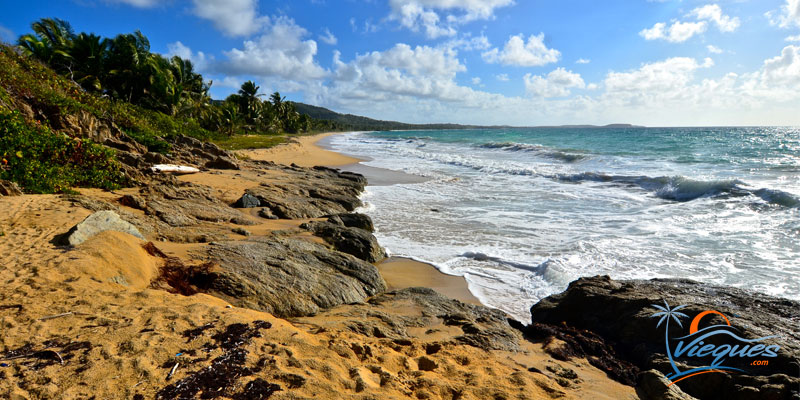 Playa Grande is one of the most unique beach on the island located on the south east end of Vieques. Playa Grande is a great starting point for a long beach walk all the way down to Esperanza. More info and photos of Playa Grande Beach in Vieques Island, Puerto Rico.
We'll continue with the beaches of Sun Bay & Esperanza, Media Luna & Navio, located right on the southern center of the island.   Sun Bay & Esperanza are the most accessible beaches on the island.
Sun Bay Beach / Balneario Sombe, Vieques, PR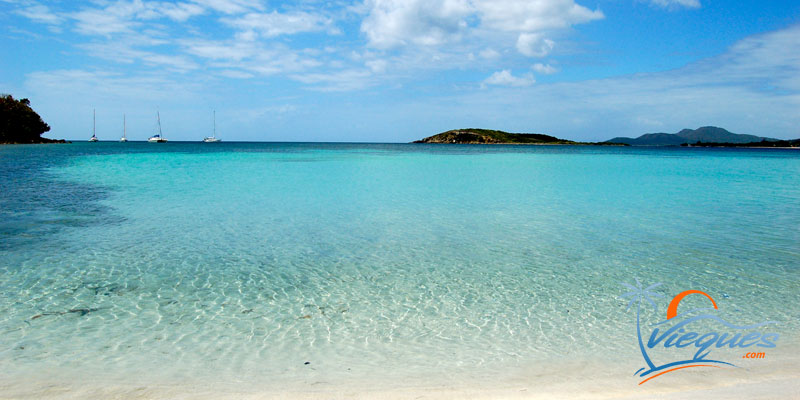 Sun Bay Beach, top favorite among the locals and travelers for it's easy accessibility and facilities. Sun Bay it's friendly offering picnic tables, restrooms, and a camp ground. Sun Bay is truly a postcard perfect beach, with palms fringing the shore. More about Sun Bay Beach, Vieques Island, Puerto Rico.
Esperanza Beach / Playa Esperanza, Vieques, PR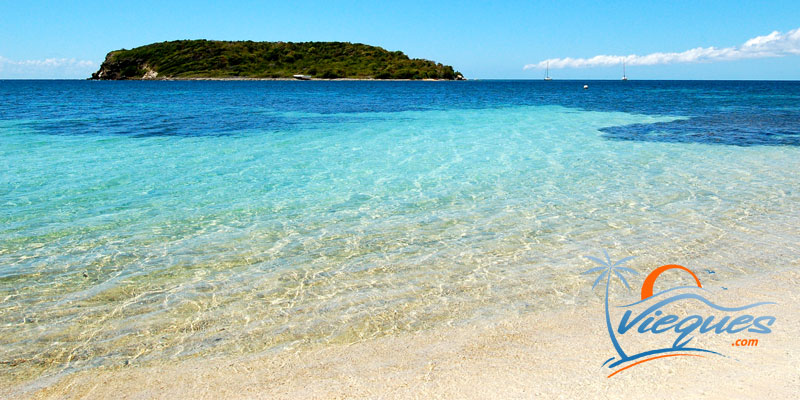 Esperanza Beach, fun beautiful beach with crystal clear waters perfect for snorkeling. Take a walk along the Strip, watch the sunset shining on colorful fisherman's boat on the blue waters of Esperanza. The translation for Esperanza is "Hope", think of dreams and hope, they may just come true while in Vieques. More about Esperanza Beach, Vieques, Puerto Rico
Media Luna Beach, Vieques, Puerto Rico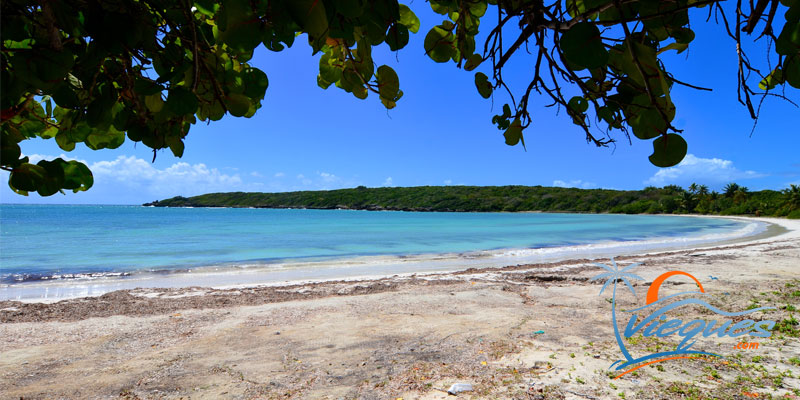 A perfectly half moon shaped beach, shallow with crystal clear waters absolutely perfect for children. Easily accessible near Navio Beach. More about Media Luna Beach.
Navio Beach / Playa Navio, Vieques, PR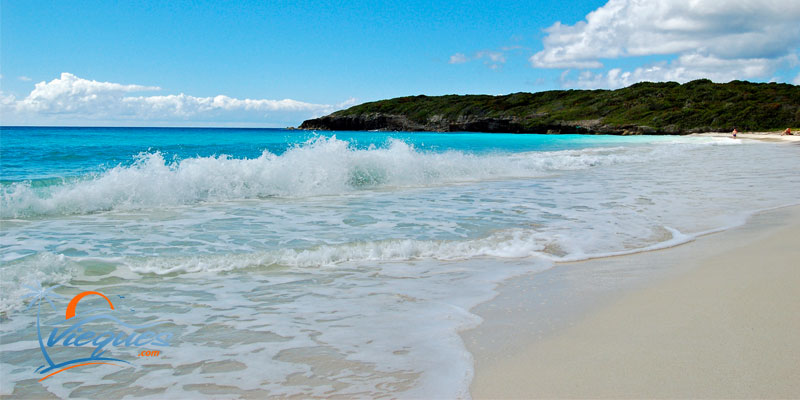 Navio Beach is the one beach where you will find some wave action, if you like body surfing then bring your boogie boards for some fun under the sun. Playa Navio is a gorgeous beach with a more intimate feeling, great for those that like to climb and discovering caves. More about Navio Beach – Vieques Island.
Now we'll head to the west coast of the island offering a long stretch of beach on a very lush green nature reserve with hundreds of palm trees adding to the already perfect scene.
Punta Arenas Beach, Vieques, Puerto Rico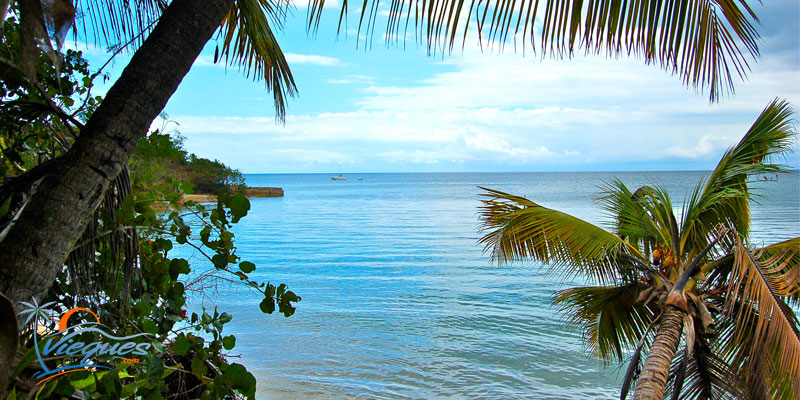 The beach Punta Arenas, is located on the northern side of Vieques Island. A great name of this beach with lots of green flora along the coast just naturally growing wild and free. Popular for snorkeling and family friendly waters. The drive there is fun especially with a jeep. Info & Photos of Playa Punta Arenas, Vieques Island, Puerto Rico.
Although not as popular the beaches on the south side of the island, the north shores of Vieques offer very scenic and relaxing beach escapes.
Cofi Beach / Playa Cofi, Vieques, Puerto Rico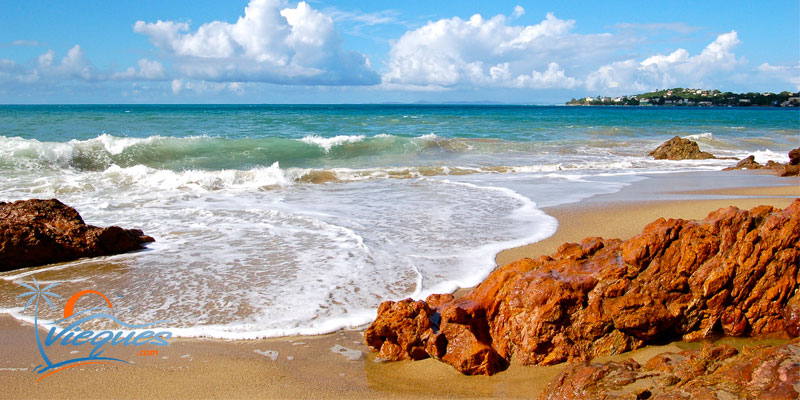 Yet another beautiful beach in Vieques and very different from the rest on the island. Bold colors of blue, reddish-brown rocks and bubbly white foam from the waves. Great views of colorful Isabel Segunda from a distance. More about of Playa Cofi "Seaglass Beach" – Vieques Island, Puerto Rico
Mosquito Pier Beaches, Rompeolas, Vieques, Puerto Rico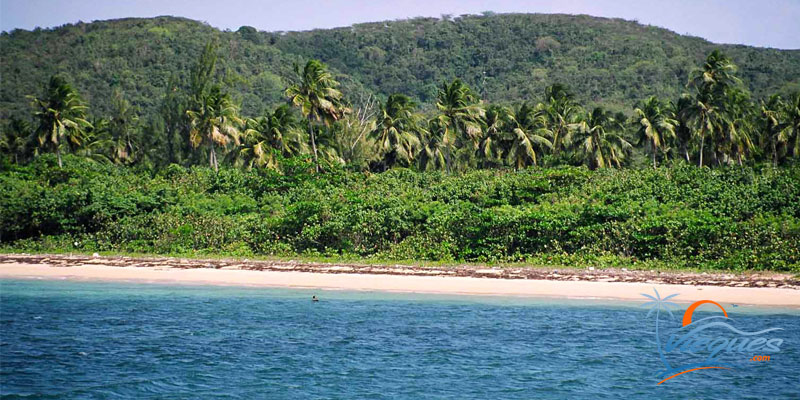 The Mosquito Pier is a popular spot for divers and it is located on the north east side of Vieques. You will find fathers with their children fishing at the pier, fishing at night is great. There are great beaches along the area that are great for bathing. More Photos and information the of Beaches at Mosquito Pier, Vieques, PR
You may like to sleep in on vacation, but in Vieques, get up early, put on your
swimwear,
grab your beach stuff, hop in your jeep, and head to the beaches to avoid sunburn and to enjoy the clearest waters.
If you read about the history of the island, most of the island beaches are still off limits to the public due to unexploded ordinance. These areas are clearly marked don't trespass into these off limit areas by land or boat.
Map of Beaches in Vieques, Puerto Rico
Click 
for Full page map – Map Use Instructions
List of Beaches in Vieques, Puerto Rico
More Great Beaches around Puerto Rico
Puerto Rico  >  Vieques  >  Attractions in Vieques  > Beaches of Vieques Puerto Rico 
Keep Exploring Vieques, Puerto Rico
---
---