Vieques  > Vieques Beaches  > Sun Bay Beach
A long, gorgeous bay facing the Caribbean Sea with hundreds of palm trees dancing to the wind…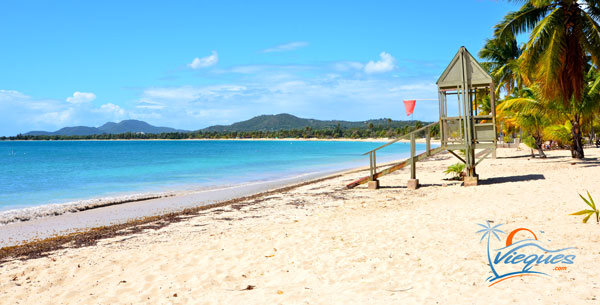 This beach is the whole package…clear blue waters, tall palm trees, lush tropical landscape, and facilities. Sun Bay is the most accessible and family friendly beach.  If you stay in Esperanza, it's an easy walk from Esperanza beach.  When you enter the parking lot, you'll be greeted with paso fino horses elegantly grazing on the grounds.
The water has many shades of blue, just like you would expect at a Caribbean destination.  The sand is soft and very light ivory color. Calm slow waves make this a great beach for swimming and playing on the water.  In the winter months you can play in it's gentle waves and in the summer Sun Bay is very calm, especially on the far east end.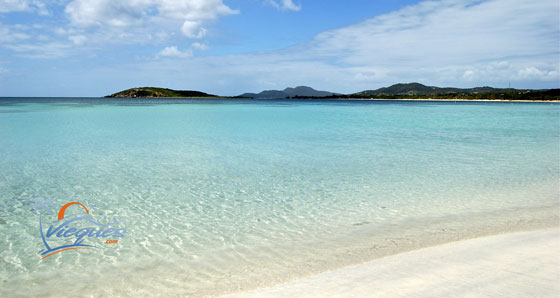 The scenery is worth of a postcard, it's a great beach to hang your hammock and simply gaze at nature and the scenic views.  From your lounge chair you can enjoy views of the offshore cays, Monte Pirata in the distance and sailboats gently swaying to the gentle Caribbean breeze. Sun Bay is lined with hundreds of tall and baby palm trees.  You will find Noni plants along the beach with other native tropical treasures. There is plenty of sand to claim a perfect spot under a palm tree, even on a "busy' day in Vieques there's plenty of sandy for you to enjoy a quiet spot.
Facilities at Sun Bay
Sun Bay is a Balneario, a balneario in Puerto Rico is a public beach managed by a government agency.  Balnearios are the only beaches in Puerto Rico that offer services such as bathroom facilities, camping, food kiosks, security, and lifeguards.  Most important the water quality is also monitored.
Map of Sun Bay Beach / Balneario Sombe, Vieques, PR
Explore more beaches in Vieques, Puerto Rico.
Vieques  > Vieques Beaches  > Sun Bay Beach
Keep Exploring Vieques, Puerto Rico