Vieques > Things to do in Vieques  > Horseback riding in Vieques, Puerto Rico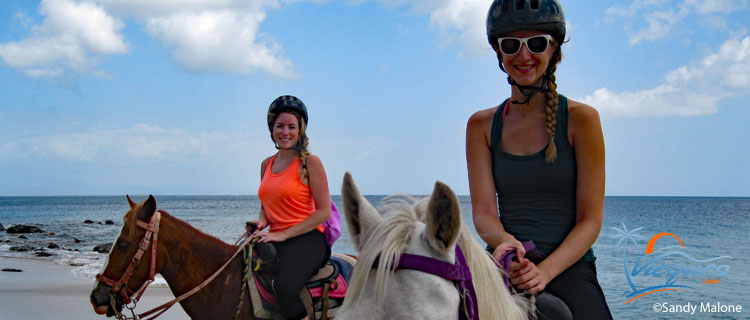 Horseback riding is one of the most romantic activities in Vieques. Viequenses (locals) love their horses, they proudly ride them around the island, is one of the things that make this island special.
Imagine being surrounded by a natural lush tropical setting free of crowds, horseback riding on a secluded beach where the only sounds are the ocean waves and trees moving the wind as the breeze slowly caresses your skin.
You may stop imagining… this can be you in Vieques; one of the last true undiscovered islands on the Caribbean. Horseback riding is a great way to explore the shore with your loved one and the rest of your group.
Bring your loved one to Vieques, propose during sunset while horseback riding, or simply take in all the beauty that this island has to offer.
We encourage you to see and experience Vieques Island like the locals, horseback riding is a simple yet invigorating, adventurous and romantic activity. Friendly tour guides are ready to take you on an unforgettable adventure.
Horseback Riding Tours
Esperanza Riding Co. 787-435-0073
Sea Gate Hotel 787-741-4661
More Popular Horseback Riding Destinations in Puerto Rico
Vieques > Things to do in Vieques  > Horseback riding in Vieques, Puerto Rico
Keep Exploring Vieques, Puerto Rico