Vieques > Things to do in Vieques  > Hiking in Vieques, Puerto Rico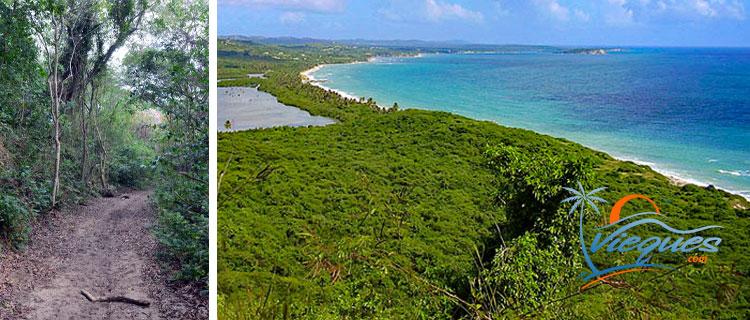 Hiking is a very grounding activity for nature lovers, in Vieques you can hike through trails with breathtaking views that lead to quiet beaches. Some places are not accessible by car but hiking will get you there. You can venture into the Playa Grande Sugar Mill Ruins and then continue for a long walk along miles of gorgeous and rugged coastline of Playa Grande. End your hike by sitting on a rock and watching the amber sunset setting behind Monte Pirata.
Note: Some of the most remote areas of the island do not have cell phone reception, particularly the west side, practice common sense, don't hike alone and don't bring any valuables just as you wouldn't do in any other destination. 
Places to Hike in Vieques Island
Cayo de Tierra
You don't have to walk far to get to this trail because it's right off the beach in Esperanza. As you look to the water from Esperanza you'll see two cays, Cayo de Tierra is the one attached to the island and the sand / dirt path divides the beaches of Esperanza and Sun Bay. As you walk towards the Cayo de Tierra, steer to the left side of the island. Bring your camera you will have many photo opportunities. You can hike to the very top of Cayo de Tierra, you may want to sit down at the edge of the cliff to enjoy the breathtaking views of the blue waters of Vieques.
Playa Grande Sugar Mill Ruins – you can explore the ruins on your own, however we highly recommend you book a tour with Vieques Conservation and Historical Trust, they offers excellent educational tours, the museum is in Esperanza on the main strip. If you choose to explore on your own, please walk around with care, watch where you step on and wear sturdy shoes. Warning: There is no cell phone reception in this area, so you will not be able to make calls or use your handy map app. Make sure you have a GPS app that does not require internet service.
La Playuela Trail & Vereda Cerro Playuela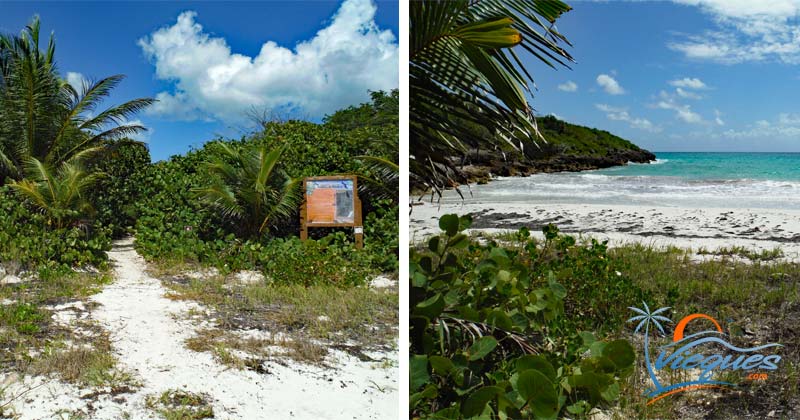 Vieques offers two new gorgeous trails offering panoramic views of Caracas Beach (Red) and paths that lead to the pristine beaches of La Playuela and Playa Corcho. Head towards the Garcia beaches and look for the "Tres Palmitas" boat ramp.
Quebrada Urbano – Head to west side of the island and go for a little treasure hunt of the little falls (in rain season). From Esperanza take 201, look for an overpass (right before Gallery Galleon). You'll see a riverbed under the the overpass, start your hike here and head to the interior of the island, just follow the riverbed and you'll get there in about 20 minutes.
Hiking Tours in Vieques
Black Beard Sports  (787) 741-1892
Vieques Hidden Trails 402-591-9206
Vieques > Things to do in Vieques  > Hiking in Vieques, Puerto Rico
Keep Exploring Vieques, Puerto Rico