Vieques Puerto Rico  >  Things to Do in Vieques, Puerto Rico  > Scuba Diving in Vieques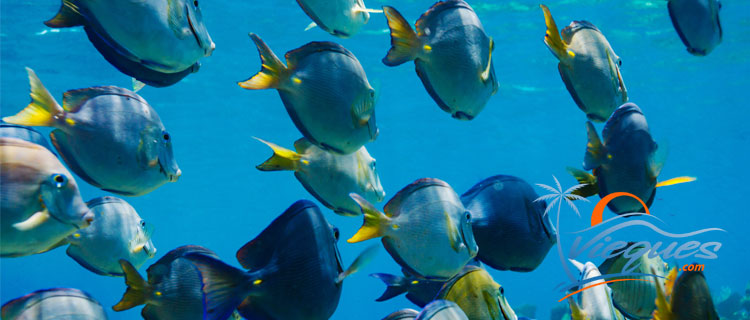 Vieques is gaining popularity as a scuba diving destination in the Caribbean.   Vieques, one of the islands of Puerto Rico offers excellent diving conditions year round.  Visibility is amazing, down to 100 feet at some diving sites and water at a comfortable temperate ranging from 74 during "winter" months to a warm 80 degrees during summer months.  You'll be transported to a underwater world that you can explore with the company of turtles, dolphins, manatees, spotted eagle rays, as you discover colorful gardens of hard and soft coral and a variety of sea plants.
Three – acre Isla Chiva lies 200 yards out in the bay and it is a very popular spot for scuba diving.  Swim to its western side and you'll find a reef where coral, puffer fish, crustaceans and barracuda abound.
Scuba Diving at Mosquito Pier, Vieques, Puerto Rico
Scuba diving sites in Vieques, Puerto Rico. 
Anchor Reef
Biplane
Bucky
Blue Tang Reef
Castle
Cayo Afuera R
Cayo Blanco
Doughnut
Esperanza Pier
Horshoe
Isla Chiva
La Lanchita
Lobster Reef
Mosquito Pier
Patti's Reef
Twilight Zone
For the best experience we highly recommend that you request the services of professional scuba tour operators.
Scuba Diving Charters in Vieques, Puerto Rico
Black Beard Sports (787) 741-1892
Isla Nena Scuba (787) 718-7605 / 7607
Related Articles
Vieques Puerto Rico  >  Things to Do in Vieques, Puerto Rico  > Scuba Diving in Vieques
Keep Exploring Vieques, Puerto Rico