One of the offshore islands of Puerto Rico….Dreamy, Serene, Romantic… Postcard Perfect
The best beaches of Puerto Rico.. The most secluded, uncrowded and natural
Come to Isla de Vieques it's like going back in time, where you can experience the beaches of the Caribbean the way it used to be decades ago. Vieques undeniably offers the very best beaches in the Caribbean, they're not only pretty, they're addictive, and visitors that come here, simply have to come back… The beaches of Isla de Vieques, perfectly capture the enchantment of Puerto Rico that existed over 6 – 7 decades ago.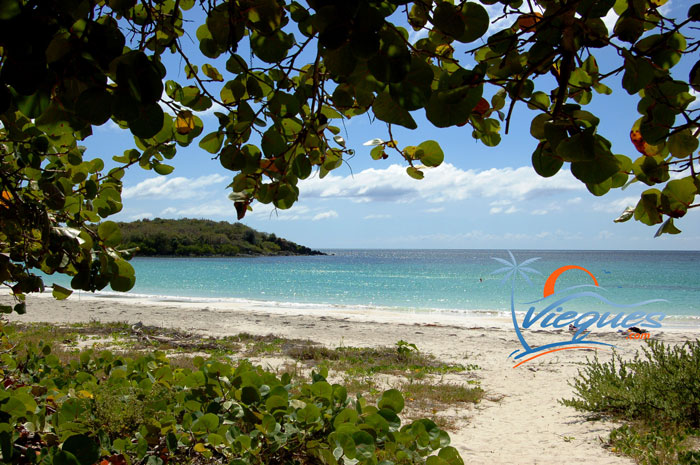 This small island has been blessed with countless picture perfect beaches with clear blue, azure and turquoise waters unlike any other island in the Caribbean. Each beach has a different type of sand ranging from pure white to baby powder soft black. Isla de Vieques is the island where you hold hands with your loved one, look back and you want to grab your camera to capture the only set of footprints on the beach… yours.
In Vieques you will find some of the most scenic, quiet, and secluded beaches on the Caribbean. Puerto Rico

is a very popular destination on the Caribbean for the hundreds of beaches

and interesting attractions

.   The beaches in Vieques are very different from the main island, they stand out for it's unspoiled and tranquil environment that makes you want to lay on the sand and let your mind free to dream.
Your greatest task during your vacation in Vieques will be finding the time during your stay to explore all the beaches. Vieques may be a small island but there are many beaches to explore. If you don't have more than one week vacation in Vieques I guarantee that you'll end up coming back. You will become one more traveler that comes to Vieques again and again
Following are some of the most popular beaches in Vieques. We add more photos on a regular basis so please come back soon. Enjoy our Vieques beaches photo tour.
You may like to sleep in on vacation, but in Vieques get up early, get on your jeep, and head to the beaches, no sunburn and the clearest waters.
If you read about the history of the island, most of the island beaches are still off limits to the public due to unexploded ordinance and possible contamination. These areas are clearly marked don't trespass into these off limit areas by land or boat.
Here is a little video introduction of a video we liked by a traveler like you.
Sun Bay Beach / Balneario Sombe, Vieques, PR

Sun Bay Beach, top favorite among the locals and travelers for it's easy accessibility and facilities. Sun Bay it's friendly offering picnic tables, restrooms, and a camp ground. Sun Bay is truly a postcard perfect beach, with palms fringing the shore. More about Sun Bay Beach, Vieques Island, Puerto Rico.
Playa Negrita "
Black

Sand Beach", Vieques, PR

Even some locals do not know that there is black sand in Vieques. This beach is a bit difficult to find but truly worth the visit. Great beach for a romantic walk and for those with the desire to hunt for treasures like the Pirates of the Caribbean. More info and photos of Black Sand Beach in Vieques Island Puerto Rico.
Silver Beach / Playa La Plata, Vieques, PR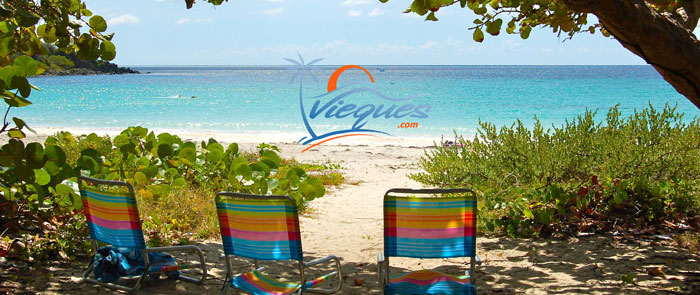 Plata translates to Silver; a perfect name for this beach. The crystal clear waters that sparkle and baby powder soft white sands that glimmer with the sun. The shades of blue are like a painting, and the ambiance is perfect for relaxation since not many visitors drive to the farthest east end of the island. More about of Playa La Plata, Vieques
See More Beaches in Vieques
More Great Beaches around Puerto Rico
– San Juan Puerto Rico Beaches
– La Playuela / Playa Sucia in Cabo Rojo  – our favorite beach on the main island of Puerto Rico