Puerto Rico > Vieques Puerto Rico > Vieques Travel Guide > Getting Here > Puerto Rico Airport Options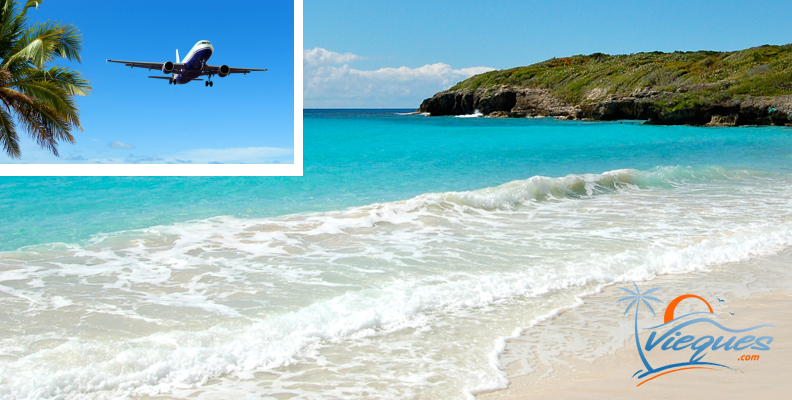 Puerto Rico is the hub for travel in the Caribbean, that's good news for you because you have a great choice of airlines competing to get you the best rates.
What most people don't realize is that Puerto Rico has various airports to choose from, especially if you're flying from a major city in the United States. Your options will depend on the region that you wish to visit in Puerto Rico and your vacation budget. Take some time to read this page, we hope that the following guide will help you choose the right flights, for your vacation and budget needs. Please take a few minutes to read this page, it will answer most of your questions, inform you of all the choices you have, so you can save money on your flights and book the most convenient flights for your vacation needs.
Airport Options in Puerto Rico when traveling to Vieques
You will get the best rate by flying on a Tuesday or Thursday – The best days of the week to book a flight is on Tuesday night or Wednesday mornings when airlines typically work on adjusting prices for the week.
Option #1 – San Juan Airport – Luis Munoz Marin International
Choose San Juan Airport if:
Need a flexible flight schedule – most major airlines fly to the San Juan Airport daily. We love JetBlue for it's service, comfortable seating, rates and schedule.
Planning to stay in San Juan / Metro / or East Coast of Puerto Rico for a few days before heading to Vieques or Culebra. If you are getting a car rental you can get to the farthest point on the west coast in about 2.5 hours, so no place is really too far.
Spending your whole vacation in Vieques or Culebra – If you're going to the east offshore islands of Puerto Rico, and don't have any plans to see the main island, then the San Juan Airport will be your best choice. The most convenient way to get to Vieques is to take a connecting flight and most airlines that fly into Vieques depart from San Juan.
Want to get the cheapest flights to Puerto Rico – As we stated earlier, the San Juan Internation is the hub of the Caribbean so you'll get the most competitive rates going to San Juan. In some days, you can get even cheaper flights to the Aguadilla airport. (see below)
Option #2 – Aguadilla Airport – Rafael Hernandez
A small but busy airport on the west coast of Puerto Rico mostly serving tourists to Porta del Sol, local and business travelers. The flight options are more limited but very competitive and sometimes ridiculously cheap rates. The only two major airlines flying into the Aguadilla airport are Continental and JetBlue. Spirit Airlines offers very low rates at times if your plans are flexible.
Choose the Aguadilla Airport if:
Option #3 – Ponce Airport – Mercedita
The Ponce Airport offers daily flights from JFK in New York City and Orlando, Florida through JetBlue, the only airline company flying to Ponce.  The Ponce Airport is an excellent option for those wanting to experience some of Puerto Rico's unbeaten paths along the south coast of the island and then head over to Vieques Island on the ferry.
Tips on booking to save money on airline tickets
Try to book your flights 21 days in advance to get the best rates.
You will get the best rate by flying on a Tuesday or Thursday – The best days of the week to book a flight is on Tuesday night or Wednesday morning because they airline is working on adjusting prices for the week.
If you love to travel and do it often there are various credit card companies that give you miles every time you make a purchase. Just read the fine print to make sure it applies to your travel needs and choice of airlines.