Vieques, Puerto Rico  > Vieques Attractions > Laguna Kiani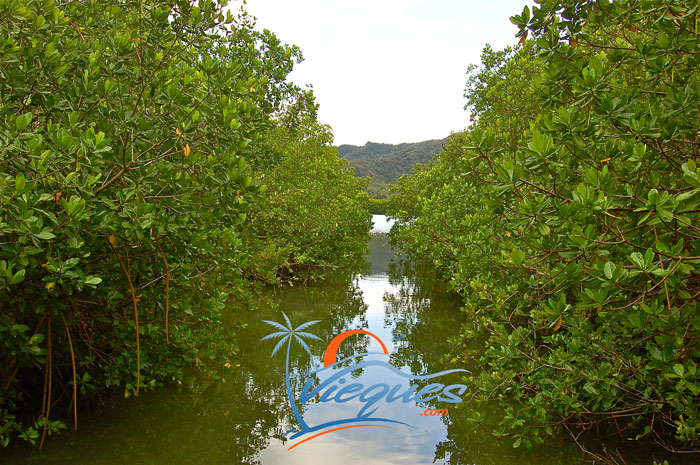 Laguna Kiani is one of the natural Bioluminescent wonders of Puerto Rico with gorgeous healthy mangroves. Laguna Kiani is a wonderful learning opportunity for children and adults interested in nature.
US Fish and Wildlife currently protect and maintain the area. They have provided a nice informative display with photos and important information on the natural environment at Laguna Kiani.There is a boardwalk through the mangroves that lead to the beautiful lagoon with gorgeous views, a great place to watch birds.
The Mangroves Species in the Area of Laguna Kiani are The Red Mangrove (Rhizophora Mangle), Black Mangrove (Avicennia Germinans), White Mangrove (Laguncularia Racemosa), and Button Mangrove (Conocarpus Erecturs). Source: US Fish & Wildlife
Laguna Kiani closes at 6pm, no swimming or fishing is permitted is allowed, therefore the bioluminescence at night cannot be enjoyed. Of course you can enjoy and experience Mosquito Bay at night with a tour guide.
Map of Laguna Kiani (Kiani Lagoon)
Vieques, Puerto Rico  > Vieques Attractions > Laguna Kiani 
Keep Exploring Vieques, Puerto Rico