Puerto Rico > Vieques  > Things to do in Vieques Puerto Rico  >  Stargazing in Vieques Island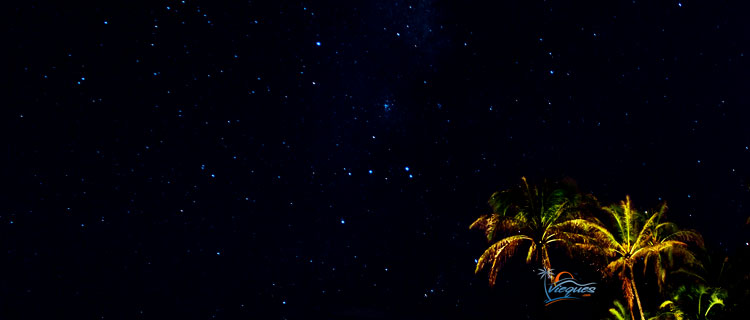 Before you get to Vieques, you may be wishing the sun would never go down so you can enjoy all the natural beauty all over the island; but if you look up to the sky in a moonless night, you will find yet another reason to fall in love with this magical Caribbean island. Your imagination will run free with the beauty of the sparkly starry sky.
Astronomical tourism is growing in Vieques, the island is small and two thirds of the island is a reserve so light pollution is low making Vieques perfect for those that love stargazing. If you are quiet and listen, as the stars twinkle the coquis create the perfect background music to the sky show.
After a fun day at the beach, grab a blanket, sit on a comfortable lounge chair, sit back and enjoy the show.
Stargazing Charters in Isla de Vieques, Puerto Rico
There are no official Stargazing Charters in Vieques, however Island Adventures does a fantastic job during their Bio Bay Tour going over the constellations and planets. Bio Bay tours only take place when the Moon is NOT full so the conditions for stargazing are amazing. The Bio Bay tour is not to be missed during your visit to Vieques, experience the magical stars in the water and the twinkling ones above you.
Puerto Rico > Vieques  > Things to do in Vieques Puerto Rico  >  Stargazing in Vieques Island
Keep Exploring Vieques, Puerto Rico