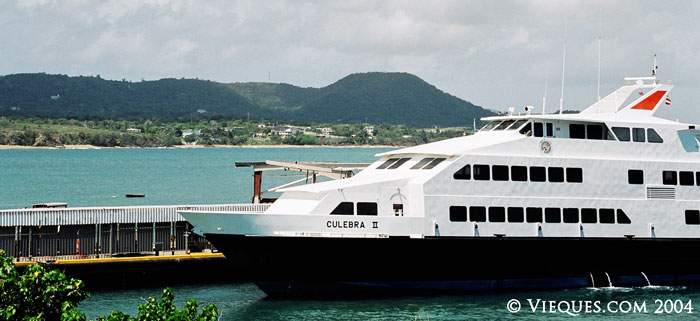 Passenger and Cargo ferry is available from the municipality of Fajardo and managed by (Autoridad de Transporte Integrado de Puerto Rico or ATI). Four vessels run between the town of Fajardo and Vieques several times a day. The ride generally takes about one hour and 15 minutes. The car ferry takes about two hours. The time may vary upon the boat you board and the weather conditions.

On this page you will find information on ferry rates, how to get to the ferry dock in Fajardo, contact information, ferry schedule and frequently asked questions about the ferry service. Please note that all schedules are subject to change, please call to confirm schedule.


The ferry system is not perfect, actually there are many issues and frequently on the past few years.  Using the ferry system does take planning. On your travel day give yourself plenty of time just in case you can't get on the ferry as planned. The morning ferry sells out quickest so get there early to get your tickets.  You may have to wait until the next ferry due to maintenance issues, weather and availability. The ticket window is open just 1 – 1.5 hours before the time of departure, the window closes at 8pm Monday – Friday and closes at 7pm on weekends.   If you're on a tighter budget then the ferry is the most affordable option. Your next least expensive option is a short 10 minute flight from the Ceiba Airport.  If you can't get on the ferry, hurry and get to the airport, but be sure to call for availability of flights and schedules. Be sure to read the

Vieques Flights Guide

for all options. 
Authority of Marine Transport / Autoridad de Trasporte Maritimo
Contact Numbers:  787-863-0705 /  787-863-0852 / 787-863-4560 / Toll Free: 800-981-2005
– Vieques Office is located at the ferry dock in the town of Isabel Segunda.
Here is their official website, but there's not much info there: Puerto Rico Port Authority
NOTE: We do our best to provide you up-to-date information, however please call Puerto Rican Port Authority Office in order to confirm the times, since schedules are always subject to changes, but good luck getting through the phone. 
Passenger Ferry Information & Schedule
Taking the ferry to Vieques is the most cost-effective way to get to Vieques.
Forms of Payment accepted:
Fees for Passenger Ferry
Adults ages 60 and under – $4 Round Trip / $2.00 One way
Children ages of 3 – 11 – $1 one way
Seniors ages 60 – 74 – $1 One way
Seniors ages 75 + – Free
Fajardo / Vieques Passenger Ferry Schedule
Subject to Change
7 Days a Week
From Fajardo to Vieques: 9:30 am, 1:00 pm, 4:30 pm, 8:00 pm
From Vieques to Fajardo: 6:30 am, 11:00 am, 3:00 pm, 6:00 pm
Please note that the Cargo ferry also takes passengers, therefore offering additional times, see schedule below.
Cargo Ferry Information & Schedule
If you are traveling with a vehicle from Puerto Rico there is a cargo ferry available going to Vieques several times per day which also takes passengers. Recently more cargo ferry trips were added. Be advised that if all car reservations are on board, the ferry may leave earlier. You will need a reservation for the cargo ferry.  Be sure to arrive to the dock at least a half hour before departure time, and at least on hour on weekends and holidays.
Contact Information:
Fajardo Office – (787) 863-0705, (787) 863-0852, (787) 863-4560, (800) 981-2005
Vieques Office – (787) 741-4761
Culebra Office – (787) 741-3161
Fees for the Cargo Ferry
One way medium car or truck $26
Driver's fee Included
Passengers fees $2 per person
Cargo Ferry Schedule
Fajardo to Vieques
Monday – Fridays: 4:00 am, 6:30 am, 9:30 am, 10:30, 2:30 pm, 4:30 pm
Saturdays: 9:30am, 3:30pm
Sundays: 11:00am, 5:30pm
Vieques to Fajardo
Monday – Fridays: 6:00 am, 8:3o am, 12:30, 1:00pm, 4:30 pm (except Friday), 6:00 pm
Saturdays: 7:30am, 12:30pm, 5:30pm
Sundays: 9:00am, 1:00pm, 7:00pm
Heading to Culebra? Here is the Culebra ferry information
Frequently asked questions about the ferry service
Can we make reservations for the Vieques ferry?
Unfortunately not yet. Reservations are not accepted for the passenger ferry. You may purchase tickets ahead of time at the Fajardo or Vieques ticket booth.  Be sure to arrive to the dock at least a half hour before departure time, and at least on hour on weekends and holidays.
If you are taking a vehicle, reservations are required for the Cargo Ferry, get to the dock early to make your reservations, especially on weekends and holidays. You will need your car registration and driver's license.
For more information call
Fajardo 787-863-0705 / 787-863-0852/ 787-863-3360
Toll Free (800) 981-2005
The phone rings and rings and no one answers? Does that mean they're closed?
The people working at the port, in the Vieques ferry and the Fajardo port, will rarely answer the phone to take your reservation. Unfortunately some of the Puerto Rican Government Offices simply don't hire enough people to do the job right.
Is there parking at the dock?
Yes, you may park your car at the public parking lot for $5 per day plus tax.
Can we rent a car in Puerto Rico and bring it to Vieques on the ferry?
If you have a rental car in Puerto Rico, check with the car rental company. Most car rental agencies will not allow you to take the car off the main island of Puerto Rico, however we made a few calls and some local companies said they allow it.
How do I get from San Juan to Fajardo? – More about Getting from San Juan to Fajardo. 
Related Articles: