Puerto Rico > Vieques Puerto Rico > Romance in Vieques  > Weddings in Vieques
The Perfect Place for Beach Lovers to Celebrate a Destination Wedding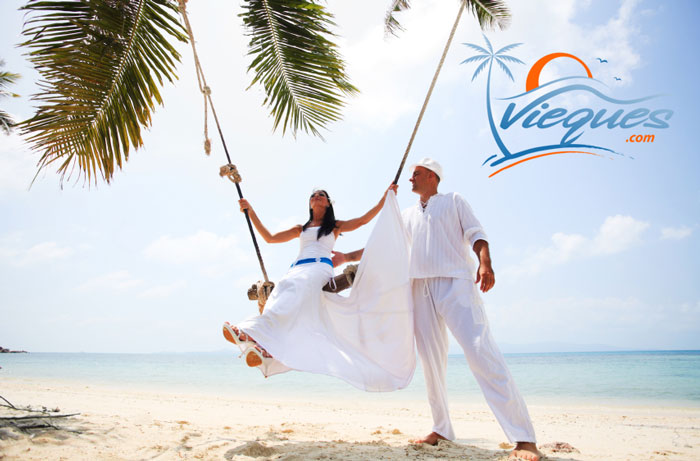 For the past decade, Vieques is one of the hottest wedding destinations in the Caribbean. Imagine saying I do in your beautiful white dress highlighted by the blue sky and magnificent shades of the water in Vieques. Your faces are softly sun-kissed, while your hair is softly caressed by the ocean breeze.  You look into each other's eyes and take a minute to share the beautiful surroundings.  At that moment you realize how much beauty and adventures you can look forward to sharing for the rest of your lives.
Your dream of a tropical wedding will come true on the magical islands of Vieques.  This island provides serenity, privacy and some of the most beautiful unspoiled beaches in the Caribbean.  The bioluminescent bay will be an amazing experience for all your guests.  Your wedding guests will thank you for not only sharing your day but for introducing them to Vieques.  Have a destination wedding with special moments and memories that will be cherished by all forever.
Note to us from a bride: Hi Luisa, my name is Johanna and because of this site my husband and I found the world's most incredible place to get married. Rev. Nancy Carr married us at Sun Bay with the rising sun – it was amazing! How you describe the island, its atmosphere and especially its people in a personal and charming way is exactly how we discovered our place to be for every year around our wedding day! We are planning to come back! Thank you! – Best, Johanna
Planning a Wedding in Vieques
Planning a wedding in Vieques does require additional planning.  Everything has to be brought into the island by plane or ferry due to the limited resources here.  We highly recommend you hire the services of a wedding planner so you can focus on enjoying your day. Below you can find more information to help you plan a destination wedding in Vieques. Celebrate your love in Vieques, we are confident you'll find Vieques as special as your love is.
Professional Wedding Planning & Services
Vieques, Puerto Rico
+ Wedding Planners
Bodas Vieques – 917-455-0409 / 917-455-8951
Green Eyed Girl – jillian@greeneyed-girl.com
+ Wedding Photographers
Bob Gevinski – (617) 262-5565
Geigel Rosa – 787-741-1386
Liz Zivic – 787-567-2266
River Photography – 787-556-9030
+ Catering Services in Vieques
Aguacate Catering: 787-741-3646 / 787-615-2320
Personal Cuisine:  787-487-4244.
Vieques Catering: 787 741-1382
+ Florists in Vieques
Vieques Flowers & Gifts – 787-741-4197
+ Musicians
Will Colon's Steel Drum Band:  787-241-6705 / 787-741-2602 / 787-435-6443