Marsha & Robin Shepherd are the owners of beautiful Malecon House, a boutique hotel on the seafront town of Esperanza, Vieques, Puerto Rico.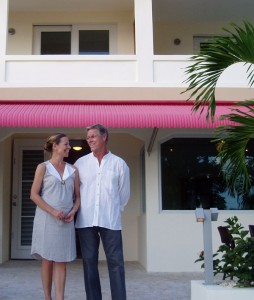 From hitch-hiking through Africa, Europe and the Middle East to living in the jungles of Central America to running our own charter yacht in the Caribbean island chain and building and maintaining luxury villas in St Barths, we felt the experience gained from our decades of travelling the world and living in the Tropics would be the bedrock for building and operating a successful B&B/Small Inn.  In 2008 we just did not know where.
Having lived in and visited virtually every island in the Caribbean from Puerto Rico to Trinidad with the exception of the islands of Vieques and Culebra, we diverted on a trip to the USA to Puerto Rico's little sisters. What we found were two islands virtually untouched by the commercialization that had irreparably altered their neighboring islands.  This was a scene similar to the Caribbean islands we had encountered on our yacht after crossing from Europe in 1979.  There were no traffic jams so no traffic lights. No mega cruise ships or chain jewelry stores had made a base there.  Horses roamed wild in Vieques and deer on Culebra. The people were warm and friendly and the beaches and surrounding waters were unsurpassed in beauty and fauna and virtually deserted.  The islands had the attraction of available modern amenities on the big island of Puerto Rico but there was a channel of water between them which had preserved the differences between the big island and our favorite, her little sister – La Isla Nena……..Vieques.  It was just a little harder to get to Vieques and so appealed to a more discerning traveler. We knew we had our new home.
This was the location we decided to put all of this hard earned experience to use. A large old local home owned by the family of a ferry boat captain and fisherman had become available on the Malecón – Spanish for boardwalk – and we loved the way it was set well back from the road, the lovely gardens and the possibilities to expand the building whilst still keeping the original character of the old home. Beautiful views of the harbor and islands and a short step to Esperanzas' eclectic collection of restaurants, beach bars, boutiques and bio-bay tours were a great bonus. A year of planning, permitting, expansion and building culminated in an opening only a month later than scheduled.  Quite a feat when one knows of the interminable Puerto Rican bureaucracy.  We could now boast of a modern, minimalist design with quality materials such as Travertine marble floors and glass showers. Furniture, doors and accents were designed from tropical hardwoods, and there was now a beautiful oasis pool.
Starting our 5th year in business and after expanding to 14 rooms, we look forward to the new season- meeting new travelers and welcoming back previous guests who have become friends and to watching Vieques find its identity as a wonderfully different and unique destination.
We wish for guests to feel that they have discovered somewhere special, off the beaten track, a haven that they can tell close friends and family about their 'secret' find.  Vieques – it's friendly people, businesses, guest houses & inns including Malecón House are very special and if we can persuade visitors of this we garner their help in protecting our wonderful way of life, the life of the Viequenses and the health of Vieques' untrammeled and gorgeous beaches and terrain, flora and fauna.  A burning desire to return is our foremost wish for travelers to feel when they leave our island and hotel. A great many do.
Marsha, Robin and their daughter Cariad welcome you to Vieques and Malecón House
Keep Exploring Vieques, Puerto Rico