Vieques Puerto Rico > Attractions in Vieques > Muelle de la Caña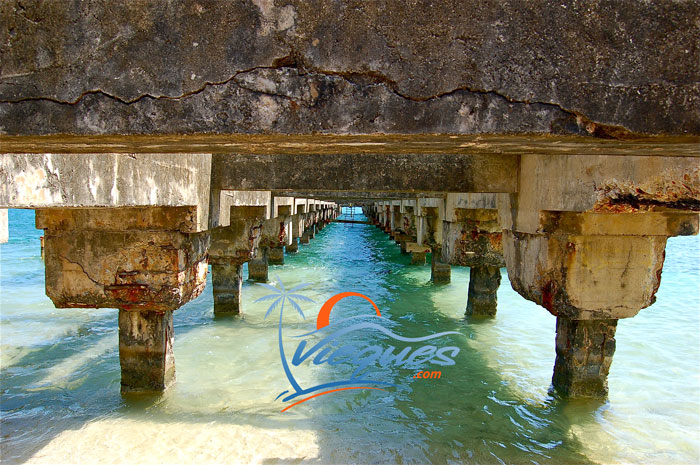 The Old Pier in located in Esperanza, a charming seaside town facing the Caribbean Sea. The beach in Esperanza is crystal clear with beautiful tones of blue. Around the Pier is a nice spot for snorkeling, jumping on the water and relaxing.
Right under the pier, it's a perfect little spot to sit on the sand with your feet on the water; watch the colorful fisherman's boats and the kids that come to jump off the pier. This is a great spot for photographers, many scenic views of El Malecon, the beach, the offshore cays, and Monte Pirata.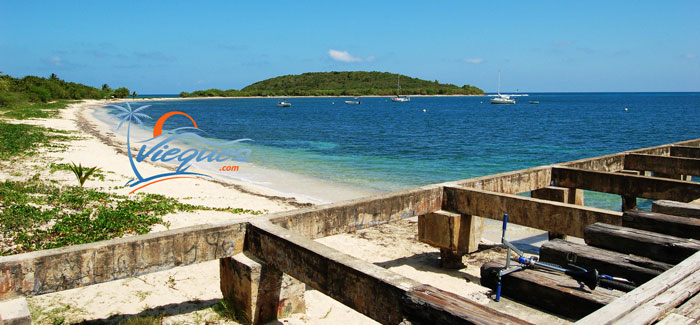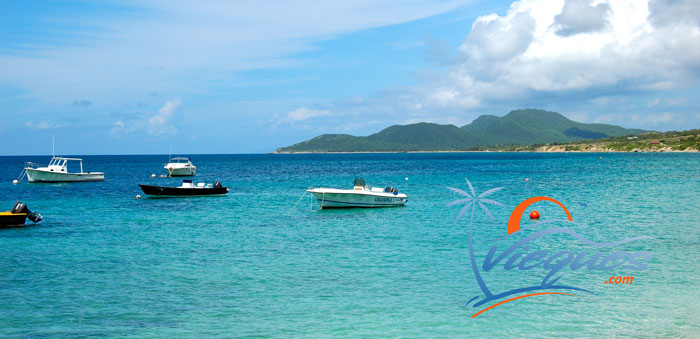 If you want a more quiet atmosphere in this spot, then visit in the morning on a weekday, it is very quiet. The evening is a great time for a leisurely walk after a delicious dinner at one of the many great restaurants in Esperanza.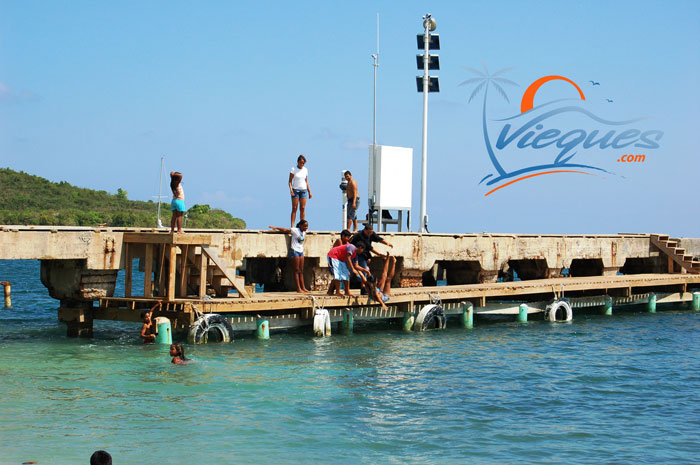 A great time to visit the Pier is on a Sunday, it will see more people than on a weekday since it is a big tradition for the kids to come around the Pier to dive in and just have some fun under the sun. You'll often find young teens proudly riding their horses in El Malecon and bring the horses in the water for refreshing bath.
Come and visit the Old Pier in Esperanza. Make sure you come to the pier on Sundays, join in the fun and please come back to visit us and share your favorite photos of the Pier and around Vieques with our site visitors.
Read this wonderful article "The Great Pier" / "Muey Grande", written by Nestor de Jesus from Travesias Yaureibo, offering bioluminescent bay tours, in addition to tours of historical attractions, hiking, snorkeling, mangroves and individualised tours to suit your needs.
More photos of the Old Sugar Pier in Esperanza, Vieques, Puerto Rico
Map of Muelle de la Caña "The Old Sugar Pier"
Vieques Puerto Rico > Attractions in Vieques > Muelle de la Caña
Keep Exploring Vieques, Puerto Rico