Vieques Puerto Rico > Vieques Travel Guide > Puerto Rico Weather > Vieques Puerto Rico Weather

Beautiful beaches, cool breezes, comfortable tropical warm weather all year round.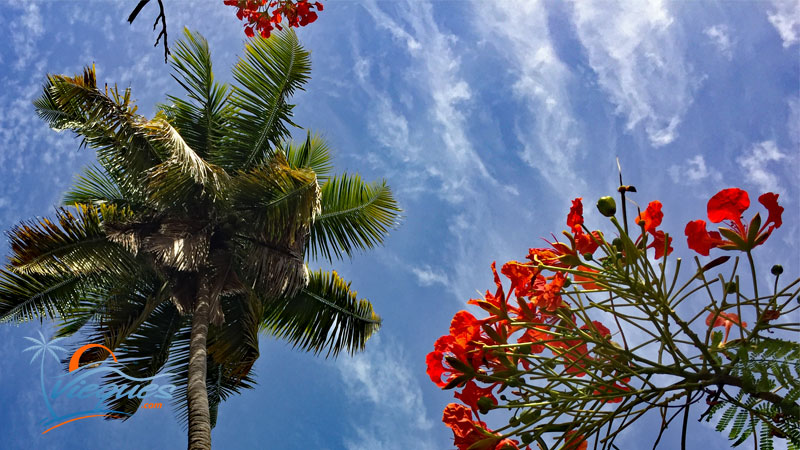 Vieques is located just off the eastern coast of Puerto Rico, the climate is about the same as on the main island. Summers are endless in Vieques, winter months on the island offer visitors the most enjoyable climate of the year, the most wonderful break from the cold.
Read on for more information, current weather conditions, a weather forecast, live weather radar, NOAA tropical weather outlook, an interactive moon phase calendar great for Bio Bay trip planning, and a live chart showing tides, sunrise, and sunset times.
Average weather temperatures in Vieques, Puerto Rico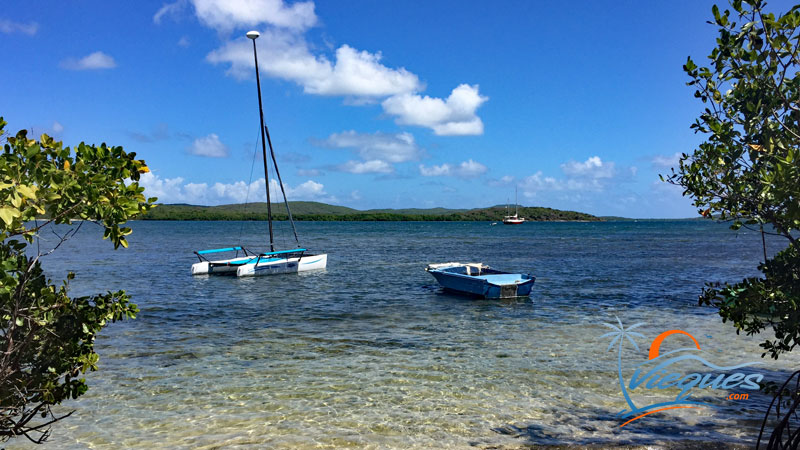 The average temperature Vieques is around the '80s all year round, the record low is 40 degrees F.  On the interior of the island the temperature drops 3-5 degrees during the evening.  A cold front from the north called a norte may cause the temperature to drop to the 60's.
Rainy Months in Vieques, Puerto Rico
The months of May, October and November are usually the months with the most rain.  Most showers occur early afternoon and they're short in duration. At times rain pours for a few minutes and the sun shines again.  If you're visiting during the rainy months or see rain in the forecast, just get up early and head to the beach.  Again, rain typically comes early afternoon. 
When it rains, that's a great time to visit the museums and shops in town. 
Here's an old wive's tale in Puerto Rico:  If you happen to be in Puerto Rico during the FIRST rain in May, get out and get soaked.  Supposedly the first water in May keeps you looking younger. 
Hurricane Season Vieques, Puerto Rico
Official hurricane season in Vieques and Puerto Rico begins on June 10th and ends on November 30th.  Historically, most hurricanes hit the island in the months of August and September. 
If you choose to travel during hurricane season, we highly recommend you purchase trip insurance to protect funds invested in your vacation in case you need to cancel or require emergency care.
One great question to ask the management of the Vieques hotel or vacation rental before booking is whether they have a water reservoir and back up electricity generator and a satellite phone for emergencies.  If you happen to be on the island during a hurricane you will be glad you asked these questions before booking.  
In September 20th, 2017, Vieques, Culebra, and Puerto Rico were hit by Hurricane Maria causing major devastation to the infrastructure, destroying homes and many businesses.  Previous to Hurricane Maria was Hurricane George on September of 1998 which caused around 2 million dollars in damages.  
Some accommodations in Vieques close during the months of September and October for hurricane protection and maintenance.   
Weather Forecast for Vieques, Puerto Rico
The location could not be found.
Live Vieques, Puerto Rico Weather Radar
The Island of Vieques is located directly in the center of the radar map box below.
Click Here for up-to-date information on any Hurricanes or Tropical Storms in the area.
Interactive Moon Phase Calendar
Use this interactive calendar to plan your trip around new moon phases, when it is darkest at night, so you can maximize your Bio Bay experience. Choose a month, year, then click "Go".
Chart of Tides, Sunrise, & Sunset Times – Vieques PR
Average Monthly Water Temperatures (°F) at Vieques Beaches, PR (source: NOAA)
| | |
| --- | --- |
| Jan – 77 | Jul – 81 |
| Feb – 78 | Aug – 83 |
| Mar – 78 | Sep – 83 |
| Apr – 79 | Oct – 82 |
| May – 81 | Nov – 81 |
| Jun – 82 | Dec – 80 |
Vieques Puerto Rico > Vieques Travel Guide > Puerto Rico Weather > Vieques Puerto Rico Weather