Vieques Puerto Rico > Attractions in Vieques > Beaches of Vieques > Caracas Beach (previously known as "Red" Beach")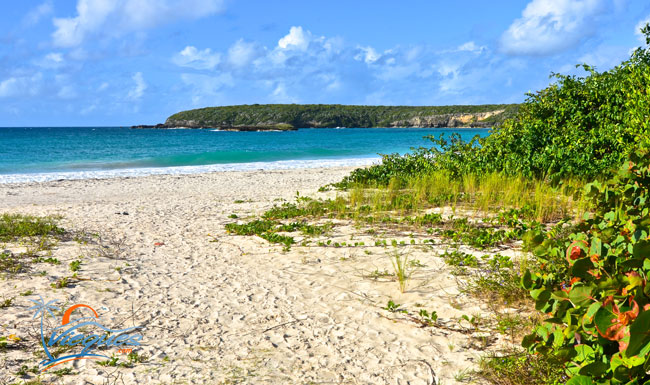 Playa Caracas (previously known as "Red" Beach")  is a family friendly beach and one of local's favorites for enjoying fun days under the sun.  Playa Caracas offers easy access, it is the first beach accessible on the National Wildlife Refuge on the south side of Vieques along the Caribbean Sea.
The waters have beautiful tones of turquoise, and the sand is a very soft and light white coral.  The waters offer gentle waves offering fun for children wanting to do a little boogie boarding.  The beach is wide offering plenty of sand for families to spread out and have fun, on Sundays you may often find families playing beach volleyball.
Recently Caracas Beach is getting much attention.  Part of the Victoria's Secret Swim Special was filmed here for it's beautiful turquoise waters, breathtaking scenery and the dramatic cliffs, giving them the perfect background.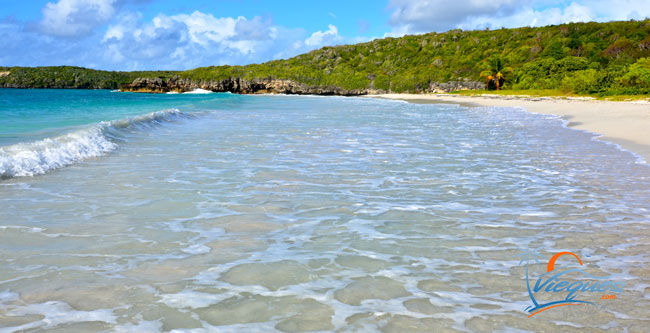 Facilies include gazebos for picnics, there aren't many so get here early, especially on the weekends to grab one.  Please bring bags with you for trash and kindly drop it on the trash bins provided.  There are no bathroom facilities at the beach, a short drive back to the entrance of the refuge you may use the bathrooms at the office.
The scenery is gorgeous just like all beaches in Vieques. A picture perfect bay framed by lush tropical plants and palm trees with some shade along the beach. At both ends of the beach are rocky cliffs and small mountains covered in lush green.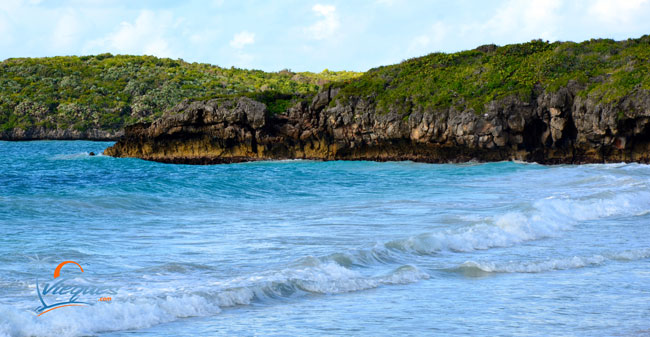 Playa Caracas is known by various names, Playa Caracas, Bahia del Corcho (because it is part of the Corcho bay). When the Navy occupied the island, it gave Playa Caracas the name of "Red Beach", as previously noted, the previous Navy names are no longer used on the island.

Getting to Playa Caracas
Off Route 997, enter the Vieques National Wildlife Refuge, Caracas is the first beach on the refuge that can be accessed by car, look for the sign and drive all the way down to the end of the road and enjoy.  The first beach from the entrance is actually Playuela Beach which is accessed through the hiking trail.
Map of Caracas Beach, Vieques, Puerto Rico
Explore more beaches in Vieques, Puerto Rico.
Vieques Puerto Rico > Attractions in Vieques > Beaches of Vieques > Caracas Beach
Keep Exploring Vieques, Puerto Rico