Puerto Rico > Vieques Puerto Rico > Vieques Hotels & Resorts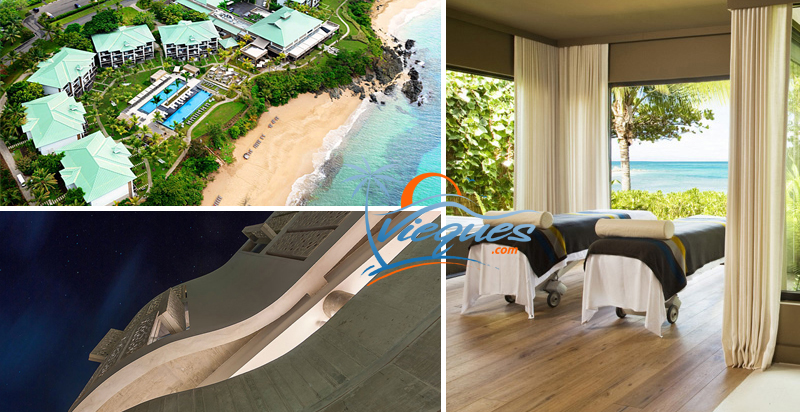 The island of Vieques may be small, but when it comes to accommodations, it offers a nice variety of options for every taste…from luxury to budget-friendly.  You won't find cookie-cutter hotels in Vieques.  Each vacation rental, hotel, and small inn is unique.  Whether you are celebrating your honeymoon or coming for a fun family vacation with children, you'll find the right place to fulfill your vacation needs. 
We have included an interactive map at the end of this page for your convenience.  Enjoy your stay!
Malecon House - Waterfront Boutique Hotel - Vieques, PR
+ Malecon House
Highlights: Waterfront (across from Esperanza Beach), free WiFi, free continental breakfast, outdoor pool, air conditioning.
Rates:  $180+ per night
Malecon House is a 13 room boutique hotel, located on the tourist friendly Malecon of Esperanza, a beachfront strip with restaurants, small shops, where most tour charters meet for Bio Bay Tours.  This is a great choice for couples, solo travelers and small families.
El Blok - Waterfront Hotel - Vieques, Puerto Rico
+ El Blok
Highlights:  Adults only hotel, Free WiFi, 24 on-site staff, restaurant, rooftop bar / lounge, room service.
Rates: From $160+ per night
An architectural work of art, one of the most unique hotels in Vieques. El Blok is located in the town of Esperanza, just steps from El Malecon, Esperanza Beach and various restaurants.  El Blok is a great choice for honeymooners, single travelers and couples seeking for an intimate destination wedding venue.  Rooms are air conditioned with a balcony, desk, in-room safe, mini bar and more.
Hacienda Tamarindo - Adults Only Bed & Breakfast - Hillside - Vieques, Puerto Rico
+ Hacienda Tamarindo
Highlights: Adults only hotel, free daily breakfast and WiFi, pool with a scenic view, on-site massage, concierge services, beach chairs and beach necessities available so you can pack light.  Available as a wedding/events venue.
Rates:  Starting at $160+ per night
Hacienda Tamarindo, a well established small hotel / B&B, offering friendly hospitality and charming island experience.  The hotel vibe is romantic and intimate, it is no wonder Hacienda Tamarindo has been a popular wedding venue for many years.  Hacienda Tamarindo is nestled on a scenic breezy hillside in Esperanza just minutes from the beautiful beaches along the south and bioluminescent bay tours.  Guest rooms are spacious, decorated with traditional furniture with tropical touches.
Hix Island House - Luxury Eco Hotel - Hillside
+ Hix Island House
Highlights: Spacious lofts and villas, private setting, full kitchens, free full breakfast, free WiFi in public areas, premium bedding, on-site massages, yoga classes.
Rates: $135+ per night
Hix Island House is an architectural masterpiece, a perfect blend of zen-design and luxury in perfect balance with its natural surroundings.  Mr. Hix's love for architecture and respect for the island come together beautifully at Hix Island House.  If you're looking for a true escape where you can connect with nature without sacrificing style, Hix Island House is a perfect choice.  This small luxury hotel is perfect for honeymooners, each house and loft offers privacy with breathtaking island views or intimate gardens.  Yoga and massages are available, it is an excellent place for yoga retreats.  Popular wedding venue in Vieques.
Bravo Beach Hotel - Waterfront Hotel - Vieques, Puerto Rico
+ Bravo Beach Hotel
Highlights: Oceanfront, pool.
Rates: From $150 + per night.
Bravo Beach Hotel is a small oceanfront hotel located in the Bravos de Boston neighborhood, just a few minutes from the main town of Isabel Segunda.  The hotel feels intimate and romantic offering oceanfront and garden view guest rooms. Continental breakfast is served daily.  This hotel is better suited for couples, most rooms only accommodate two guests and they make no exceptions.  There are suites available and a more spacious villa if you need more room. 
W Retreat & Spa - Closed after Hurricane Maria
+ W Retreat & Spa
Highlights: Luxurious accommodations, private beach, spa, excellent restaurants, wedding/event venue.
Rates: From $280 + per night
The ultimate in luxury in The Caribbean has arrived on the island of Vieques.  W Retreat & Spa, a beachfront luxury resort is ready to pamper your every request.  Guests enjoy luxurious suites, world-class dining, relaxation at the AWAY Spa and chic modern ambiance. W Retreat & Spa is an excellent choice for weddings and honeymoons, yet family friendly as well.
Map - Hotels, Inns, Bed & Breakfasts
Vieques, Puerto Rico