Puerto Rico  >  Vieques Island  > Vieques Travel Guide  > Getting to Vieques  > Vieques Flying Guide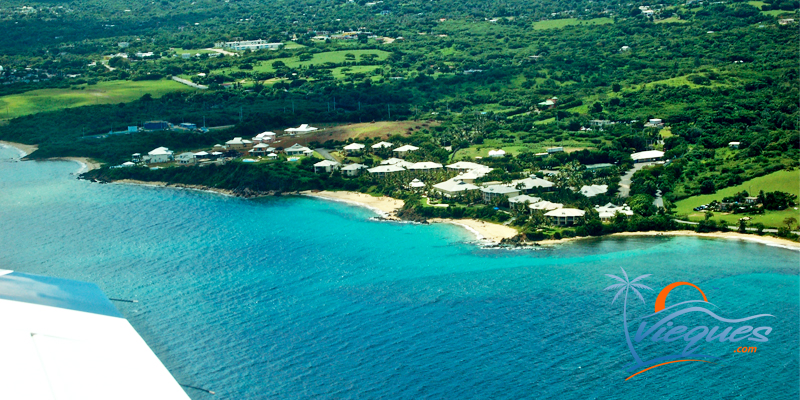 Flying is the most convenient way of getting to Vieques.  Once you arrive to the San Juan Airport, you have four flying options to the airport in Vieques.  Once you get to Vieques, most likely you'll only wish you had more time on the island.  If budget is not an issue, do yourself a favor and just book a flight from San Juan if you're staying in the capital city or from the Ceiba airport if you're staying in the east coast.  Avoid the ferry on weekends and holidays unless budget is an issue.  If you can only afford one way, fly to Vieques and take the ferry back to Fajardo.
Airport Codes
Flying Options to Vieques from Puerto Rico
Option #1 Fly from San Juan International Airport (SJU)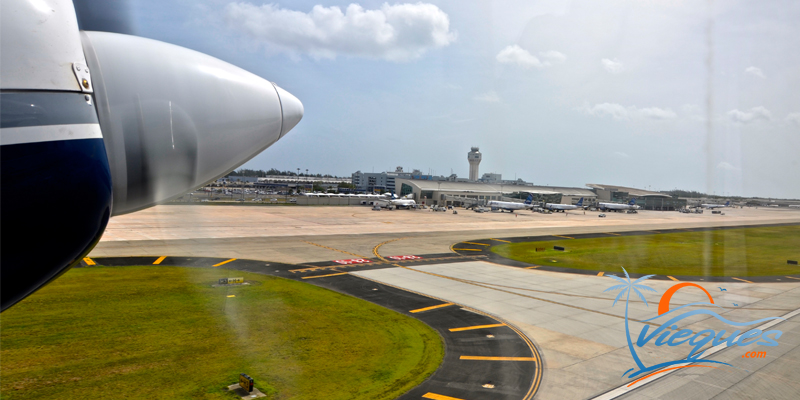 This is The Easiest, Quickest and most convenient way to travel to Vieques. All major airlines fly to the San Juan International Airport (SJU) and you can get a connecting flight straight into Vieques.
You can now book online for Vieques flights as well, this will save you much time planning time. Priceline.com
offers great rates, no booking fees and it will find you the most convenient time for a connecting flight to Vieques with Cape Air, a very reliable airline with great rates, new planes with air conditioning, great service and on time.
Duration of flight: 30 minutes
The cost is about $170 round trip p/p.
You may book your flights straight to Vieques in one click.
We often find the best flight deals at Priceline.com  
See today's price drops and flight deals.
Option #2 – Fly from
Isla Grande Airport
(SIG), San Juan, Puerto Rico
If you want to save some money on your flights, then flying from the Isla Grande airport may be a good choice for you.
Getting There: If you are arriving to the San Juan International Airport (SJU) you will need to take taxi to the Isla Grande airport. You can easily get a taxi at the airport (SJU) and the cost is about $20.
Duration of flight: about 20 minutes
The cost is about $110 round trip p/p.
Flights from Isla Grande must be booked with local airlines.
Option #3 – Fly from the new Ceiba Airport (RVR) (José Aponte de la Torre Airport)
You may want to fly from Ceiba if:
You're planning on spending a day in Puerto Rico before getting to Vieques or vice verse. In this case it would make sense for you to rent a one way car rental and dropping it off at the airport or if you want to save even more money then take the ferry.
You can't get on the ferry – During times when the ferry is not operational, plan B would be to take a flight from Ceiba.
You don't want to take the ferry but want to save some money.
Duration of flight: 10 minutes
The Cost is proximately  $40 per person
Option #4 – Book an Air Charter – (VIP Service) Convenient for Groups, Business Trips and those tight on time
None of the flights times working for your travel needs? An Air Charter may be the best option for you. You may think that you can't afford an Air Charter, but if you are traveling with a group that would fill every seat in the plane, you may find that the convenience is worth spending a few more dollars.  More about air charters.
Airlines flying to Vieques Island, Puerto Rico
Cape Air Airlines
On-time whether it's one person or a full plane. Air conditioned flights, new planes and great customer service. Easy booking online, just add your city of departure and Vieques as arrival and it will book the flights in one click through Priceline.com
Air Sunshine
800-327-8900
Vieques – 787 741-7900
St. Croix – 340 778-8900
San Juan – 787 791-8900
BVI – 284 495-8900
Isla Nena Air Service
1-888-263-6213
(787) 863-4447
(787) 741-1505
MN Aviation
Isla Grande – 787 722-0775
Vieques – 787 741-3911
SJU – 787 791-7008
Reservations 787 253-0866
Vieques Air Link
Vieques (787) 741-8331
San Juan (787) 722-3736
Toll free 1-888-901-9247
Fajardo (787) 863-3020
Map of Airports with Flights to & from Vieques
Puerto Rico  >  Vieques Island  > Vieques Travel Guide  > Getting to Vieques  > Vieques Flying Guide
Keep Exploring Vieques, Puerto Rico