Full travel guide with ferry schedule, reservation information and travel tips.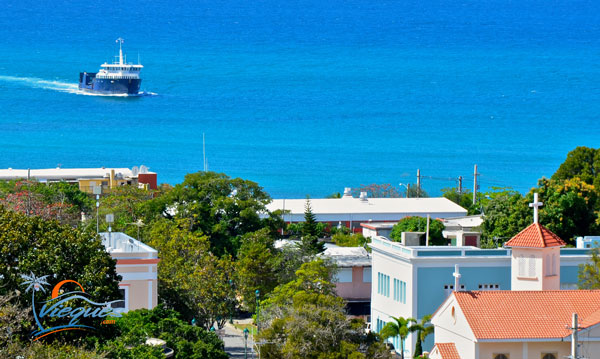 Visiting Vieques for a Day or a Week? The Ferry is an Affordable Option, but it takes a little planning.
Passenger and Cargo ferry is available from the municipality of Fajardo to the offshore islands of Vieques & Culebra.  On this page you will find information on ferry rates and schedules, travel tips, information on travel from San Juan to the Fajardo ferry terminal, how to make reservations, contact information, and more FAQ's.
Pros of Traveling by Ferry to Vieques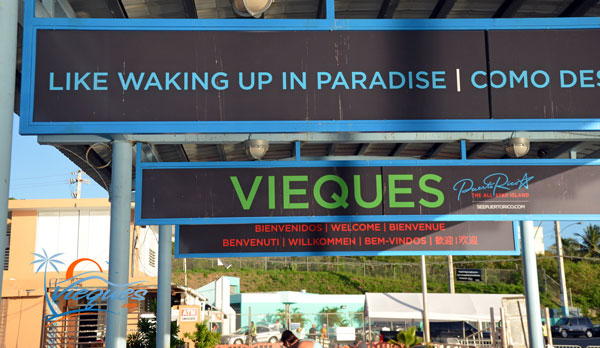 For those that wish to travel to Vieques but don't want the expense of flights to the Vieques Airport, the ferry is a great option to save on your vacation expenses.
Scenic ride to and from Vieques.
Great way to travel with a group.
Cons of Traveling by Ferry to Vieques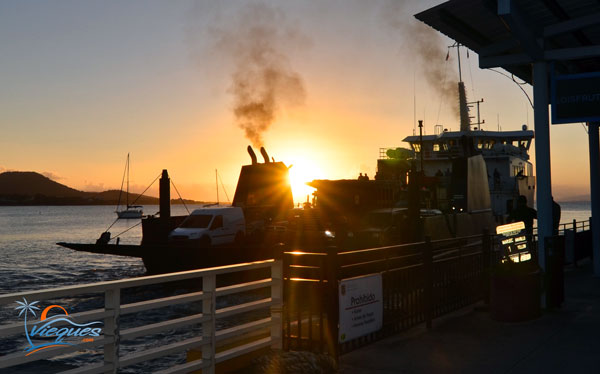 Traveling by ferry requires more planning and at times patience, however if weather is right and all ferry boats are in good working condition, you should not have any problems.
The ferry system is not perfect, there have been many frequent issues over the past years.
If you're a tourist, residents of Vieques get preference on tickets to Vieques.
On holidays and weekends be prepared to wait inline for a looooong time.  Reservations are typically not given for weekends and holidays.  Read FAQ's below.
Tips for Using the Ferry to Vieques, Puerto Rico
Give yourself at least 2 hours to get to Fajardo if you're driving from San Juan to be safe especially if you're driving during high traffic times.
The morning ferry sells out the quickest, be sure to call ahead to reserve your tickets. (numbers below).
High Season is from December to April and summers when Puerto Ricans from the mainland head to the offshore islands.  Holiday weekends are really busy, get here early just in case you have to wait for the next departure time.  Have the airlines phone numbers / smartphone ready just in case you need to reserve a flight from Ceiba Airport.
Arriving the ferry dock with a booked reservation? –  When you get to the dock, if you already have a reservation you don't have to stand in the long line. Just approach the security guard at the line and tell him / her that you already have a reservation.  You'll present your ID at the ticket office and they'll give you your ticket.
If you are taking a car on the ferry, the driver will need to stay in the car and the passengers will need to seat at the terminal.  Once the driver drives the car into the cargo ferry, driver will meet the passengers at the passenger terminal to enter the ferry.
If you can't get on the ferry or don't wish to wait you can drive to nearby Ceiba Airport and catch a flight to Vieques. Be sure to call for availability of flights and schedules. Be sure to read the Vieques Flights Guide.
The Ferry Ride
Ride Length – The ride generally takes about one hour and 15 minutes.  The time may vary upon the boat you board and the weather conditions.
Sea sickness –  The ride is pretty stable, but depending on the weather the boat may get a little rocky.  If you suffer from sea sickness, sit on the middle seats where you'll feel less motion. Speak to your doctor about a prescription or over the counter medication before your trip to prevent sea sickness.
The boats are air conditioned, there's no outside seating or standing on the cargo ferry boat.
Facilities at the Ferry Terminal
At the terminal there are vending machines, restrooms (bring toilet paper / wipes and hand sanitiser), and ATM's.  After you get your tickets, you may want to buy ice cream or snacks right across from the ferry terminal.
If you have a handicap, there's special seating so you don't have to wait in line, just ask a security person.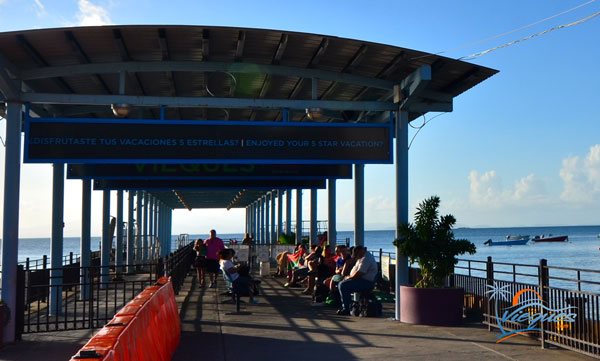 Cargo / Passenger Ferry Schedules
NOTE: We do our best to provide you up-to-date information, however please call the numbers listed below in order to confirm the times, since schedules are always subject to changes. 
Please Note: You will need a reservation for the cargo ferry.  Be sure to arrive to the dock at least an hour before departure time, and at least on hour and a half on weekends and holidays.  If you're planning on taking your car, please see more information below.
Due to hurricane Irma, there has been a change in schedule.  We will post an update as soon as it becomes available to us.  Source: Wapa
Vieques a Fajardo
6:30am
11:00am
3:00pm
6:30pm
Vieques to Fajardo

Cargo & Passenger (Regular) Schedule 
Monday – Friday: 6am (not on holidays), 11am, 3pm, 6:30pm
Saturday, Sunday & Holidays: – 6:30am, 11am, 3pm, 6:30pm
Fajardo to Vieques
Cargo Ferry (Regular) Schedule 
Monday – Friday: 4am (not on holidays), 9am, 1pm, 4:45pm, 8:15pm
Saturday, Sunday & Holidays: 9am, 1pm, 4:45pm, 8:15pm
Contact Information & Ferry Reservations
The ferry transportation system is currently managed by ATM (Autoridad de Transporte Maritimo).
Offices in Vieques & Fajardo Ports
For physical address, GPS location and map, see map below at the end of the page. Office in Vieques is located at the ferry dock in Isabel II.
Fees for the Cargo Ferry
One way medium car or truck $29
Driver's fee Included
Passengers fees $2 per person
Documents Needed For Vehicles
Driver's License
Vehicle Registration
Reservations
By E-Mail: reservaciones@atm.gobierno.pr
Forms of Payment: By Phone Visa / MasterCard / At Terminal: Visa, MasterCard, ATH, Cash
Phone # for Reservations & Information

Fajardo Office –  (787) 494-0934
Vieques Office – (787) 494-0931
Culebra Office – (787) 334-0931
Reservations are based on availability.  Be advised that residents get preference on spaces, although rare, be prepared to have alternate plan for getting to Vieques, especially on holiday weekends and inclement weather.
Heading to the sister island of Culebra?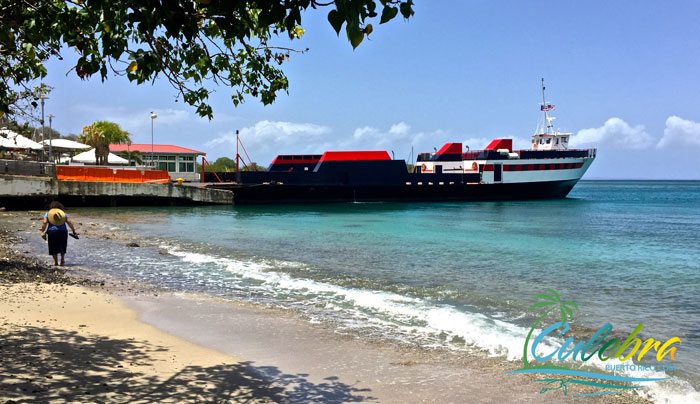 Culebra is just north of Vieques, smaller and uniquely beautiful.  If you're planning to spend at least a week in Vieques, we encourage you to take at least one day to visit Culebra.  Isla de Culebra is home to Flamenco Beach, one of the most celebrated beaches in the world, often ranking among the top 5 beaches on the planet.  Here is the Culebra ferry information
Frequently asked questions about the ferry service
Can we make reservations for the Vieques ferry?
You may purchase tickets ahead of time at the Fajardo or Vieques ticket booths. Be sure to arrive to the dock at least 1.5 hours before departure time. Tourists, we want you to have a good experience getting to Vieques, do yourself a favor and completely avoid taking the ferry on July weekends and holiday weekends / weeks.  July is high season for main land residents and they love heading to Vieques and Culebra, locals typically get to the terminal even a day / night before, we have asked people and some have waited up to 15 hours to get a ticket to the offshore islands, please fly instead.
May I take my car to Vieques?
If you are taking a vehicle, reservations are required for the Cargo Ferry. Call as soon as you know your dates by phone to make a reservation. They take Visa / MasterCard for reservations.  You will need your car registration number and driver's license.   See above for contact information.
Is there parking at the dock?
Yes, you may park your car at the public parking lot for $5 per day plus tax.
Can we rent a car in Puerto Rico and bring it to Vieques on the ferry?
If you have a rental car in Puerto Rico, check with the car rental company. Most car rental agencies will not allow you to take the car off the main island of Puerto Rico, but some do.
How do I get from San Juan to Fajardo?
Keep Exploring Vieques, Puerto Rico