Travel & Leisure 2008 Awards
I have to say… I was not surprised to read that our beautiful island "Isla de Vieques" was voted the Best Island in the Caribbean, Bermuda & The Bahamas on the Travel & Leisure 2008 World's Best Awards.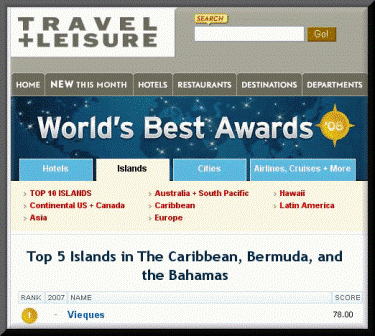 "It's no wonder Travel and Leisure readers voted Vieques their favorite island in the Caribbean. We've long been fans of the island, for its untouched (and untamed) landscapes, its white sand beaches, and its cutting-edge architecture. With a new W hotel on its way, we're thrilled to see that the rest of the world is buzzing about this little gem", commented Nancy Novogrod, Editor in Chief of Travel and Leisure.
The great thing about this award is that it was not one or a group of travel journalists making this nomination. Real travelers just like you and me voted on the awards.
The Executive Director of the Puerto Rico Tourism Company, Terestella González Denton, said: "This international acknowledgement of the quality tourist destination that Vieques has become is of great benefit to the Isla Nena and all the Puerto Ricans who feel proud of the impressive accomplishments that Vieques has achieved the last few years and of the road we have all been on with her."
Mayor Dámaso Serrano López expressed great satisfaction at the award. "The people of Vieques feel deeply and emotionally excited, enthusiastic and proud about receiving such an outstanding award. We all have a commitment to make each one of our guests feel that they are truly in paradise".

Today Show's Clip – 2008 World's Best Awards Results
The results of the survey were highlighted on NBC's Today Show in July, 2008
Travel and Leisure's spokesperson mentioned its "charming guesthouses" for under $200 a night, its beautiful white sand beaches perfect for diving, swimming and snorkeling, the bioluminescent bay and the large area earmarked for conservation. Vieques obtained 78 points and was followed by Bermuda (77.40), British Virgin Islands (76.66), St. Lucia (75.34) and the US Virgin Islands (75.20).
Each of the islands was ranked by the magazine's readers according to natural attractions, activities/ sights, restaurants/food, people and value.
Come to Vieques and you will agree that Vieques is indeed the Best Island in the Caribbean. Vieques is waiting… come and discover the Caribbean the way nature intended it to be.
Keep Exploring Vieques, Puerto Rico