Thank you for visiting Vieques.com
Join the most visited site about Vieques, with high rankings for hundreds of searches related to Vieques, Puerto Rico and the Caribbean on major search engines.  On the web, it's all about traffic and Vieques.com has excellent numbers and constantly growing. But don't take our word for it, following we provide you with up to date independent traffic analysis.
Alexa.com is the most used web analytics metrics site. It is a great tool used by marketers and advertisers to evaluate websites for media buying, partnerships, and other business opportunities.
Alexa rank is like golf, the lower the number the better. Attaining such a high rank is a huge accomplishment considering the low the demand for "Vieques" when compared to so many demanding and popular niches. This is due to our unending dedication to give Vieques the best possible exposure.
Wondering how Vieques.com compares to other sites?
Just go to following link, put the address of the site on the search box and there you have it.  We encourage you to use this tool before spending your valuable marketing dollars on advertisement.  Reminder… the lower the number the better. Here is the link 
Advertising Options
We offer affordable advertising rates to meet your business needs.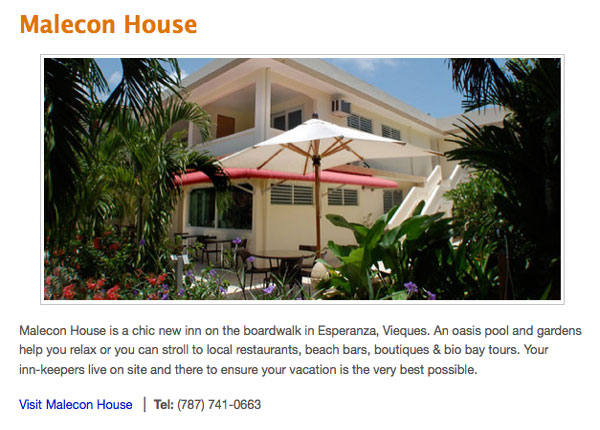 Lodging Page (our most visited page)
Image, intro text and link to your official website. Rate: $295 per year.  If you don't have a website, we can create a full listing page for an additional $50 non recurring fee.  Visit page for samples.
Sidebar Ad Space (right column of the pages)
We have a limited amount of space, inquire today.  Rate: $80 per month for a 300 x 125 banner. If you don't have an image we can create one for you free of charge when you commit for a 6 month pre-paid ad.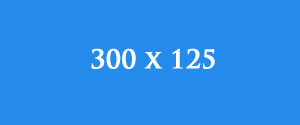 Targetted Placement
We can strategically place an ad on pages where it's best suited for the type of services you offer.
Free Advertising
We created ViequesDirectory.com  in order to provide our readers an easier way to find information on businesses on the island. Feel free to add your business, it's free and always will be. No strings attached, we don't demand for links back, it was created to benefit our readers and the business community.
Please note:
We don't demand or ask for links back to our site and never will.  You're paying Vieques.com for advertising not the other way around.
We abide by Google rules so please don't contact us with inquiries about buying links on our content pages.
We don't accept payments for positive reviews or coverage.
Guest posts are free of charge as long as they add value and we find it of interest to our readers.
Our Focus
Our focus is to provide quality, original and up to date content.  This site is written by a travel professional, the guide is researched, written and published independent of advertisements.
We keep our design simple and easy to use, and we spend much time answering private messages from readers. We hope you support our site by sharing it with your customers and please feel free to give feedback and any suggestions that you believe will make Vieques.com better.
Have questions? Ready to place an ad?
Please contact us and we can discuss your advertising needs. In order to expedite the process please have your banner ready and upload on the form below.
Keep Exploring Vieques, Puerto Rico