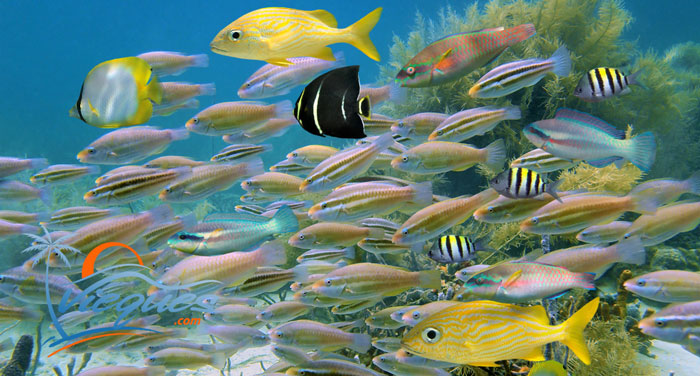 Snorkeling is a popular pastime here in the Spanish Virgin Island of Isla de Vieques and Isla Culebra.
Vieques Island was blessed with beautiful coral reefs and colorful life on our clear Caribbean waters but unlike other Caribbean Islands, you will have a spot all to yourself without crowds. The SEAclusion will add to the magical experience of snorkeling in this very special Caribbean Island.
You can bring your own snorkeling gear
to Isla de Vieques, you can come to one of our shops and rent the gear, or you may also book a tour with our excellent Snorkeling Tour Guides and let them take care of the details.
Following is some information on popular snorkeling spots in Vieques Puerto Rico as well as information on friendly snorkeling tour guides.
Have a wonderful time in Vieques, please come back and share your experience with readers like you.
Favorite Snorkeling Spots in Isla de Vieques, Puerto Rico
Cayo de Afuera: See dramatic antler coral. Enjoy the sights of nurse sharks and occasionally you may encounter a manatee cruising by..
Esperanza Beach: One of the most popular spots for snorkeling. Great snorkelling along the pier and the area right in front of Trade Winds Guesthouse.
Gorgonian Forests: Schedule a tour and see the beautiful sea fan forests.
Green Beach: Very popular beach for snorkeling, great for beginners and relatively safe. Sand flies like to hang out at Green Beach early afternoon so try to head out there in the morning hours.
Media Luna: A shallow beach/ protected cove that is great for snorkeling beginners..
Mosquito Pier located on the north shore of the island.
If you are a more experienced snorkeler, go in a snorkeling tour, you will get to explore the very best spots in Vieques.
Snorkel Gear in Vieques
There are several shops in Vieques with rental gear available. Stop in before you go on your snorkeling adventures, the attendants are very friendly and informative.
Black Beard Sports (787) 741-1892
Playa Voltios Surf & Skateboard Shop 787-741-7873
Snorkeling Tours in Vieques Island, Puerto Rico
Black Beard Sports (787) 741-1892
Fun Brothers 787-435-9372 / 787-741-0151
Isla Nena Scuba 787-718-7605 / 7607
Made in the Shade 508-353-3090
Vieques Paddle boarding 787-366-5202
More snorkeling beaches in Puerto Rico
Have a Wonderful Stay in Vieques, Puerto Rico